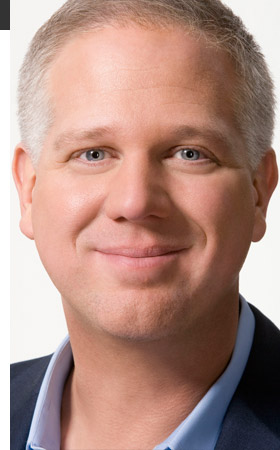 Glenn Beck
Glenn Beck is the host of Glenn Beck, Headline News' new topical talk show which premiered on May 8, 2006, on Headline Prime.
Hosted from Headline News' New York studios, Glenn Beck offers an unconventional look at the news of the day featuring Beck's unique and often amusing perspective. With topics ranging from top stories to world events and politics to life's ordinary hassles and pop culture, the show will look at "water cooler issues" that are on people's minds. The one-hour program will include guests and produced packages.
As one of talk radio's most engaging personalities, Beck works with Premiere Radio Networks, which syndicates his popular daily radio show, The Glenn Beck Program. The show, which debuted in 2001 and is now heard on nearly 200 stations nationwide, is the third highest-rated national radio talk show among adults ages 25 to 54 according to Premiere Research/Arbitron.
Beck's radio career started at age 13 when he won a local radio contest to be a disc jockey for an hour. Soon after, Beck juggled three different radio jobs at a Christian station, a rock station and a country music station but was fired from all three on the same day at age 14.
After high school graduation, Beck pursued a career as a Top 40 disc jockey, landing a job in Corpus Christi, Texas, as the youngest morning host in the United States at 18-years-old. His career took him to Top 40 morning shows in Baltimore, Houston, Phoenix, Washington, D.C., and New Haven, Conn.
After a bout with alcoholism and drug addiction, Beck became a Mormon and embarked on a new career in talk radio. He joined WFLA-AM in Tampa, Fla., where he took over a program ranked 18th in the market and took it to No. 1 within his first year. The Glenn Beck Radio Program launched into national syndication soon after Sept. 11, 2001, gaining 47 affiliates by January 2002. The Glenn Beck Program airs weekdays from 9 a.m. to noon (ET).