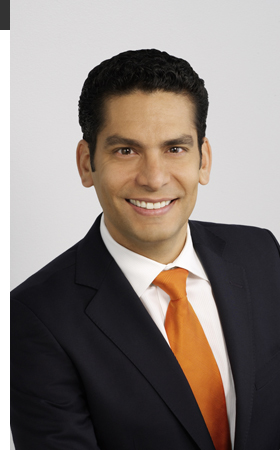 Ismael Cala
Ismael Cala is an anchor and producer for CNN en Español. Cala heads the weekends' morning newscasts, and he produces and presents the weekly feature program El Mundo Informa. Additionally, Cala presents news in other timeslots and handles special assignments for the network.
Cala has more than 20 years of broadcasting experience in Cuba, Canada, the United States and Mexico, with a particularly high profile among the Hispanic communities of Miami and Canada. In Latin America, Cala became know on CNN es Español, covering important news events from the region as a substitute anchor. He has also been host and reporter for well-known shows in the United Stated such as Univision's "Despierta América" and the Nancy Grace show on HLN (formerly known as CNN Headline News).
Before joining CNN en Español, Cala was the host of "Calando Fuerte", an América TV show in Miami. Between 2007 and 2008 he hosted the morning radio show "Ismael Cala y la Jungla de la Mañana" on Mega 949. Prior to this, Cala hosted TLN's (Telelatino Network of Toronto) biographical show, "Calando a". He hosted other series for the network such as "Fiesta Olé" and "Viva Auto". In April 2008, he became the host of an afternoon variety show for Televisa's "Canal de las Estrellas" in Mexico.
Cala has reported a number of events of global significance from the anchor desk at CNN en Español, namely: the trial and death of Saddam Hussein, Pope John Paul II's final days, and the referendum of 2004 in Venezuela. More recently, Cala broke the news of the arrest and expulsion of Honduras president, Manuel Zelaya. As a reporter, he has covered a wide array of stories, such as the SARS outbreak in Canada in 2003, hurricane Frances in Florida, and Pope John Paul II's visit to Canada in 2002.
Born in Santiago de Cuba, Cala graduated with honors from the School of Communications of York University in Toronto. He holds a Seneca diploma in Television Production. He also graduated with honors from the Universidad de Oriente in Santiago de Cuba, and holds a Bachelor's in Art History. Among other distinctions, Cala received the Somos award as Best Communicator of 2003 in Toronto, and the Canadian New Pioneers Award 1999-2000. He speaks English and Spanish.


More: