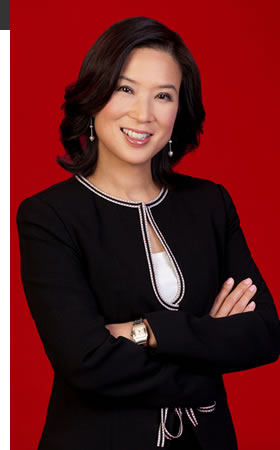 Pauline Chiou
Pauline Chiou is an award-winning anchor and correspondent for CNN International based in Hong Kong. She co-hosts World Business Today which is anchored out of the three financial hubs of Hong Kong, London and New York.
Since joining CNN International in 2009, Chiou has covered ongoing, big-theme stories such as the economic impact of China on the rest of the world. She has also focused on smaller economies by hosting business series out of locations like Cambodia and Taiwan. Chiou has interviewed movers and shakers in the business and political world such as Zhang Xin, CEO of SOHO China, Morris Chang, CEO of Taiwan Semiconductor, Wikipedia co-founder Jimmy Wales, Carlos Ghosn, Chairman and CEO of Renault Nissan, Garuda Indonesia CEO Emirsyah Satar, Marriott International President & CEO Arne Sorenson, and media mogul & Apple Daily founder Jimmy Lai. Chiou also conducted a live interview with the Malaysian Opposition Leader and former Deputy Prime Minister Anwar Ibrahim after his acquittal on sodomy charges.
Chiou has served as a correspondent live on location across the Asia Pacific region, covering stories including the devastating aftermath of Typhoon Morakot in Taiwan and reporting from the Demilitarized Zone between North and South Korea. She also reported live from Seoul on the funeral of former South Korean president Roh Moo-hyun. She has anchored news coverage of some of the most significant global news stories including the Japan earthquake and tsunami, the unrest across the Middle East and the earthquake in New Zealand.
She formerly worked for CNN based in the United States where her business experience included reporting live from the floor of the New York Stock Exchange. Prior to joining CNN, Chiou worked as a correspondent for CBS Newspath, was a weekend evening anchor at WBZ TV (CBS) in Boston, Massachusetts and a morning news anchor for KPRC-TV (NBC) in Houston, Texas.
Chiou received a Bachelor of Arts in history from Yale University and a Master of Science in Journalism from Medill School of Journalism. In 2008 she was awarded the Don T. Sheehan International fellowship to attend the annual Wharton Seminars for Business Journalists. Early in her journalism career, she won an Associated Press Award for Feature Reporting for a special series on the Massachusetts National Guard's peacekeeping missions in Bosnia.
Chiou was born in New York where she grew up in the Hudson Valley. She speaks English, Italian and basic Mandarin.
Follow her on Twitter
@paulinecnn