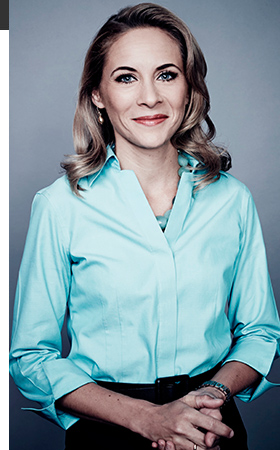 Nina Dos Santos
Nina dos Santos is a news anchor and correspondent based in London.
She is the host of CNN International's twice-daily global business show World Business Today and regularly presents various feature shows and documentaries.
Nina has anchored a number of major news events for CNN, from the London Olympic Games to the Arab Spring uprisings and the 2011 Japanese Tsunami.
She was part of CNN's team following the British Royal Wedding, covered the Euro zone crisis extensively from the region's capital cities and has been an integral part of the network's coverage of general elections in Germany, France, Italy, Greece and Russia.
Aside from her anchoring duties, Nina has a significant track record of obtaining exclusive interviews and breaking news.
Upon joining CNN, Nina broke several stories on the International Monetary Fund following the arrest of its Managing Director Dominique Strauss-Kahn and was the first journalist in the world to get a copy of his leaving letter, written in jail.
Nina began her career in print news with internships at the Financial Times Group and Dow Jones & Co before moving into broadcast news as a presenter with Bloomberg Television, later with Sky News and NBC News.
An experienced moderator, Nina has chaired panels at the World Economic Forum, Chatham House and at the European Parliament in Brussels and writes a regular column syndicated in newspapers across Europe and the Middle East.
Nina holds a BSc in Biological Sciences from Imperial College London, a Master's degree in Economics and speaks five languages.
Before returning to London in 2005, Nina lived and worked in Italy for four years as a correspondent.
Follow Nina on Twitter @NdosSantosCNN