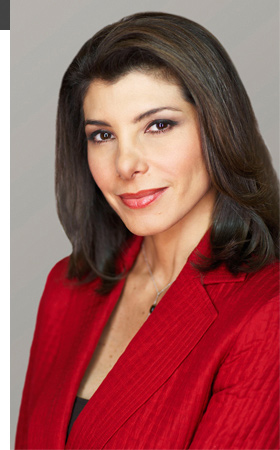 Patricia Janiot
Patricia Janiot is a senior anchor for CNN en Español and serves as the advisor to the executive vice president and general manager of the network. Janiot joined CNN in 1992 and presents Noticiero CNN Internacional con Patricia Janiot, the day's most important headlines and stock market activity; Las Noticias con Jorge Gestoso and Patricia Janiot, a dynamic and comprehensive review of world events; and Noticias Mexico, dedicated to covering important local, national and international events of special significance to Mexican viewers. In addition, Janiot contributes a weekly column to CNN en Español RADIO, CNN's Spanish-language radio news service.
She has traveled to Latin America to report live on key world events, including the most recent elections in Argentina, Colombia, Chile, Mexico, Peru and Venezuela. She reported live from the Gaza Strip and Israel when former Prime Minister Benjamin Netanyahu was elected. She has covered several papal trips to Latin America and Ibero-American Summits. Most recently, Janiot traveled to New York to cover the terrorist attacks on the World Trade Center. Janiot has also interviewed most of Latin America's heads of state, including Fidel Castro and Augusto Pinochet.
Janiot also traveled to Paraguay to report on the political crisis that concluded with the resignation of President Raul Cubas. In addition, she reported President Bill Clinton's historic visit to Colombia and has anchored live, from Atlanta, the development of important news events including the terrorist attacks of Sept. 11, the war against terrorism, the U.S. presidential elections, the hostage crisis in Peru, Princess Diana's funeral and the conflicts in Iraq and Kosovo.
Janiot has received numerous journalism accolades, among them a Golden Mike Award in 1990 for best newscast by the Radio & Television News Association of Southern California, an Emmy Award nomination, and Colombia's Simon Bolivar award for investigative journalism. Janiot was also named to the Hispanic Media 100 in 2001, an annual recognition of 100 of the most influential Spanish-language journalists and news media executives in the United States, and was most recently awarded a 2002 Spanish-language Television Industry Award (INTE) for "Best Female News Personality." In addition, serves as the president of the non-profit organization Colombianitos, dedicated to helping children who have been affected by the war in Colombia.
Born in Bucaramanga, Colombia, Janiot earned a journalism and social communications degree from Universidad de la Sabana in Bogota. She also studied broadcasting, radio and television production at Colegio Superior de Telecomunicaciones in Bogota and holds a degree in English from Cambridge University. Janiot speaks English and Spanish fluently.


More: