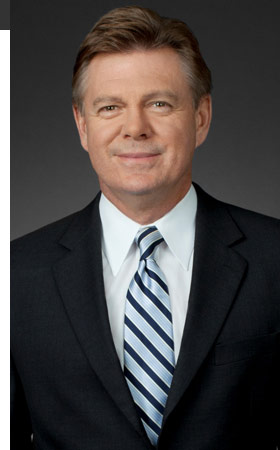 Martin Savidge
Martin Savidge is a correspondent for CNN based in the network's world headquarters in Atlanta. In 2011, he has reported on breaking news stories, including the largest tornado outbreak in US history that moved through the Southeast, and the earthquake, tsunami and nuclear disaster in Japan. Savidge returned to CNN in 2011, and reported for the network from 1996 to 2004.
Savidge has covered breaking news throughout the globe for CNN. He delivered on-the-ground coverage of the military build up in Iraq and Kuwait in 2003, including embedding with the 1st Battalion of the 7th Marines. He has reported from Afghanistan, Kandahar, and Bagram, where he was the first television reporter to travel with the U.S. troops during Operation Anaconda. Following the Sept. 11, 2001 terrorist attacks, Savidge reported from Ground Zero on the search and rescue mission.
In 2004, Savidge joined NBC News as a correspondent based in Atlanta, reporting for NBC Nightly News, the Today Show, and MSNBC. He was their primary correspondent in New Orleans when Hurricane Katrina struck in 2005.
Before joining national network television, Savidge worked as a special projects reporter and anchor for WJW-TV in Cleveland. For 11 years, he covered major local, national and international stories, specializing in news documentaries and breaking news.
Savidge began his broadcasting career as an anchor and reporter for WCIA-TV in Champaign, Ill. in 1980. He then moved to work as the prime-time anchor for WMBD-TV in Peoria, Ill. Savidge also has worked as a reporter for the Associated Press.
Savidge has been honored with some of broadcast journalism's most prestigious awards, including two Headliner Awards, two Edward R. Murrow Awards, A Peabody Award, Dupont Award, nine local Emmy awards, six Associated Press awards, two United Press International awards and two Women in Communication awards. In October 2002, the National Journalism Education Association named Savidge its Media Person of the Year for his support of scholastic journalism.
Savidge earned a bachelor's degree in journalism from Ohio University.