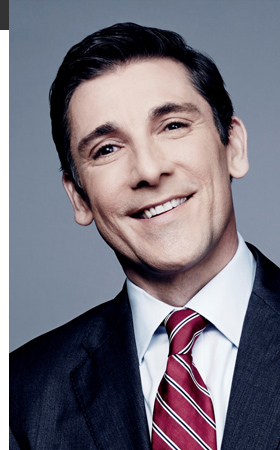 John Vause
John Vause is an accomplished anchor and correspondent for CNN. In October 2010 he returned to the network's headquarters in Atlanta, having previously served as the network's senior international correspondent in Beijing, to anchor CNN International's "World Report" news program.
For more than 20 years, Vause has reported from 30 countries – having been based in Beijing, Jerusalem and Los Angeles – covering the biggest stories in the world. He has been to many of the worst natural disasters in recent memory – earthquakes in Haiti and China, bush fires, floods and typhoons. He was there for all the controversy surrounding the Beijing Olympics and was one of the last reporters to interview former Pakistan PM Benazir Bhutto, returning to Karachi after she was assassinated.
In the Middle East, Vause reported from the front lines of the Israel-Hezbollah war and was part of the team which won a prestigious Edward R. Murrow award. He was the last reporter in Gaza after the Israeli pullout in 2005. He was there in Ramallah when Palestinian Leader Yasser Arafat fell ill and died, and he was there in Jerusalem when Israeli Prime Minister Ariel Sharon was left incapacitated after suffering a stroke. When Palestinian suicide bombers launched a concentrated campaign against Israel in 2002, Vause was there. He was also in the middle of the Israeli military campaign which followed, and was in Bethlehem for the 39-day long siege of the Church of the Nativity.
When the leader of al Qaeda in Iraq, Abu Musab al Zarqawi, was killed by a U.S. airstrike, Vause was the only international reporter who visited the scene. He spent months traveling through Iraq after the U.S.-led invasion, and was one of three anchors for CNN International who were based in Kuwait in the months leading up to the invasion.
He was one of the few reporters who reported from New York on the 9/11 attacks, then traveled to Pakistan and then to Afghanistan for the fall of the Taliban.
Vause has been there for Presidential inaugurations, Democratic and Republican National Conventions, Bill Clinton's impeachment, the death of John F. Kennedy, Jr., shootings in U.S. schools and gala awards from the Oscars to Grammys. He's interviewed Presidents and Prime Ministers, movie, music and sporting stars – but mostly ordinary people who do extraordinary things.
Vause holds a Bachelor of Arts degree in American history from the University of Queensland.