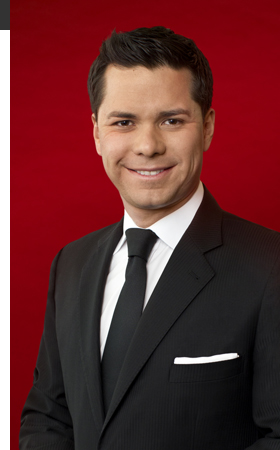 Luis Carlos Velez
Luis Carlos Vélez is an anchor and reporter for CNN International based in New York.
Vélez joined CNN International from sister network CNN en Español (CNNE), where he anchored various programs as well as Agenda Ejecutiva, the network's monthly show for business travelers. He joined CNNE as Senior Business Producer.
Vélez has also been part of special assignments for the CNN News Group. In 2010, he was sent to Haiti to cover the massive earthquake and to Colombia, where he accompanied the Colombian military forces in their operations against the terrorist group Farc. He also covered the September 2010 political crisis in Ecuador.
Vélez has interviewed many Latin American President in recent years, including the President of Colombia Juan Manuel Santos, former President of Colombia Álvaro Uribe Vélez, the President of Perú Alan García, the President of Panama Ricardo Martinelli, the President of Chile Sebastian Piñera, and the President of Ecuador Rafael Correa.
As anchor of Agenda Ejecutiva, Vélez traveled to Argentina, El Salvador, Guatemala, Mexico, Peru, Colombia, Panama, Puerto Rico, Uruguay, Venezuela, Chile, Ecuador and the United Kingdom.
Before joining CNNE, Vélez worked as anchor and producer for CityTV in Bogotá and as International Producer for Caracol TV, in Colombia.
With extensive experience covering financial news on the field, Vélez started his professional career in finance and he worked for Enron Corporation in Texas. In 2007, Vélez was named one of the 10 "Leaders of the Future" in Colombia by Jet-Set magazine.
Born in Bogotá, Vélez earned a degree in Economics from the Universidad de los Andes. He also earned undergraduate credits at the London School of Economics and a Certificate in Administration and Management from Harvard University in Massachusetts. Vélez speaks Spanish and English.