Democratic National Convention, August 25-28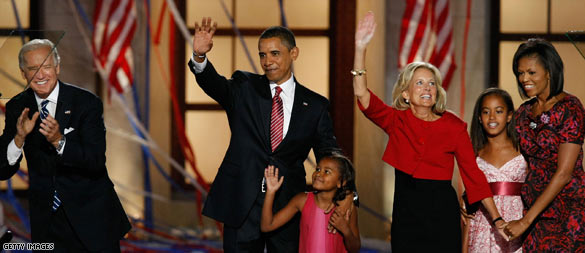 Obama: I'm ready to face McCain
Sen. Barack Obama laid out his plan to lead the country into an era of change as he accepted the Democratic presidential nomination Thursday night, securing his place in history as the first African-American to lead a major party ticket.
Full story


Day 4: Thursday, August 28


Obama blasts McCain, lays out his own agenda
Barack Obama accepted the Democratic nomination for president Thursday in a speech that attacked John McCain and George W. Bush, laid out an ambitious agenda for an Obama administration and called on Americans to unite around common beliefs.
Full story

Day 3: Wednesday, August 27


Bill Clinton praises Obama's readiness to lead
Former President Clinton declared Barack Obama "ready to be president of the United States" after months of attacks from Hillary Clinton supporters on the nominee's lack of experience.
Full story
|
Video

|
Text
|
Report card


Day 2: Tuesday, August 26


Hillary Clinton: Obama 'must be our president'
Sen. Hillary Clinton introduced herself as a "proud supporter of Barack Obama" as she called on her party to rally behind her former rival.
Full story
|
Report card
|
Commentary

Day 1: Monday, August 25

Kennedy and Obama kick things off
The first day of the Democratic Convention featured speeches by Sen. Ted Kennedy and Michelle Obama.
Full story
|
Analysis


The Road to Denver


Blitzer: Now the selling begins
First and foremost, the Democrats need to convince American voters that Barack Obama is the right man to lead the country.
Full story