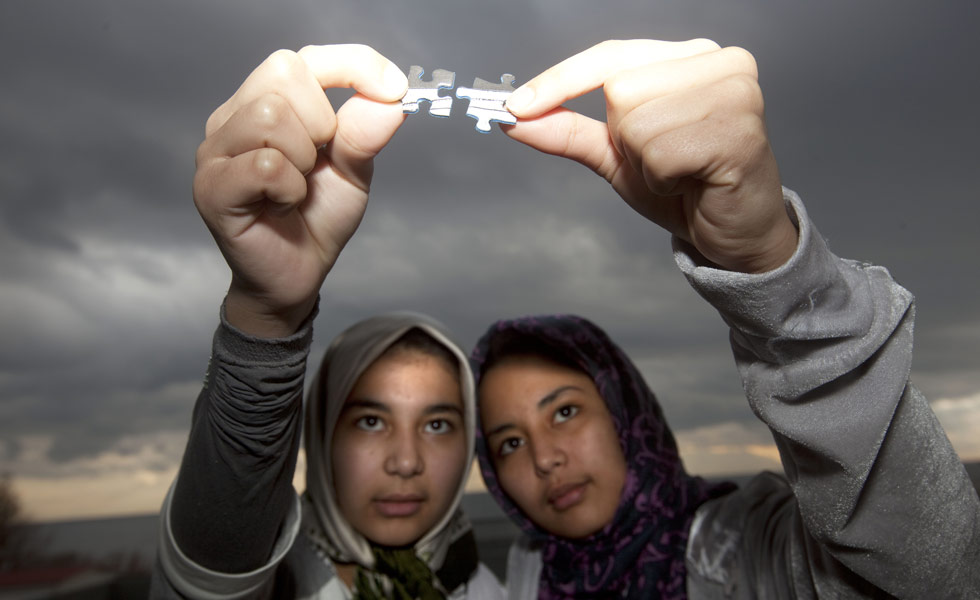 Sisters' tears for broken family
Arazu has dressed carefully for her morning flight. The petite, youthful 43-year-old wears summery white trousers and Jackie O-inspired cream plastic sunglasses. Her nails are painted deep burgundy and her hair sits in a soft bob above her shoulders. Her earrings are delicate twisted wire balls with little pearls buried inside, gifts from her two daughters at Christmastime.
But it's the trousers and sunglasses that carry the most powerful memories for Arazu. She wore them the day she left Greece with fake papers more than two years ago. Now, as a legal resident of Europe, she's wearing them upon her return as a symbol of freedom -- and a message of hope.
Arazu's flight from Munich lands in the northern coastal city of Thessaloniki at 1:30 p.m. She waits for the next bus to Alexandroupolis, which leaves at 4:30 p.m. It is hot and Arazu is giddy with excitement, despite being unable to sleep the night before.
She passes the time in a cafe before boarding for the nearly four-hour trip. On the bus, she takes a window seat and looks out as sun-scorched paddocks, herds of goats and corrugated iron shacks sweep past. Passengers chat, play video games and make phone calls. Arazu just wants the ride to be over.
In her bag she carries two glittery rings, their gold wash now dulled, which she intends to put on soon. They were gifts from her daughters when the family lived in Iran.
Her bag also contains another special pair of earrings. They are jeweled green frogs that she found in a Munich bazaar. To her, they represent a saying she likes, that if you "eat the frog" you'll overcome ugliness with strength.
On this day, Arazu feels very strong.
A family's pain
Earlier this year, we found Arazu Akhlaqi's daughters sitting on the floor of their temporary home, their legs curled beneath them and a laptop balanced on the couch at eye level.
They are waiting for the Skype connection to click in. When it does, they find themselves looking into the eyes of their mother. Arazu smiles gently, but her face reveals deep sadness.
This family is in pain. As they talk, the older daughter, Zahra, leans her head on the shoulder of her sister, Someyeh. The two girls sink into tears. "I don't want to see you like this," Zahra, 13, tells her mother.
On the screen, her older brother sits next to Arazu and joins the conversation: "Don't cry," Yasin, 16, reassures her. But he presses two fingers to his eyes, stemming his own tears.
"We are always waiting and nothing happens," says Zahra, her head covered with a purple scarf. "God willing, we will be together," her mother answers, squeezing her eyes tight.
Behind Arazu and Yasin's pixelated faces, high on the wall, are the black, red and yellow stripes of the German flag. It's just a small sticker planted on a plain gray locker, but it's also a sign of their separation.
Arazu is in Munich, Germany, with Yasin and her youngest, 8-year-old son Reza. Zahra and Someyeh, 12, are almost 2,000 kilometers away, in Alexandroupolis, Greece.
Fleeing for their lives
The family is originally from Ghor, a central province in Afghanistan. Arazu's husband, Mohamed, had been involved in a land dispute when he was single and was being chased for money. Arazu believes the people who wanted the cash would have killed him.
Mohamed, fearing for his life, fled to Iran. Arazu stayed behind with the children but was harassed, blamed for having helped her husband escape. A year later, she took the children to Iran.
But life in their new home proved grim. Mohamed was working without papers, and their children were unable to attend school. When a work argument turned ugly, Mohamed was killed.
In grief and with four children to raise, Arazu decided to leave, risking everything for the chance to give her children an education and a new life.
She paid smugglers $5,000 to take her and her sons to Europe. She left her daughters in the care of a friend until she was safe and could afford to bring them over. Accompanied by smugglers, Arazu, Yasin and Reza trekked through Iran and across the mountains of Turkey on foot, horse and finally by bus into Istanbul, where they spent three days before crossing into Greece.
They stayed in Athens for a month, searching for someone who would help them get deeper into Europe. Eventually, a fellow Afghan created fake documents at a cost of 6,000 euros [$7,840]. Papers in hand, Arazu and her boys traveled to Germany, where she handed herself in to authorities and asked for asylum.
As a single mother with two children facing persecution in her home country, she was accepted as a humanitarian refugee. With that status comes a one-room apartment, a German passport and an identity card giving her the right to work. Perhaps more important to Arazu, her boys could attend school.
According to the Federal Ministry of the Interior, almost 62,000 Afghan citizens live in Germany, a country of just over 80 million people. Last year, just under 30% of the nearly 65,000 asylum seekers were granted refugee status or another form of protection.
Arazu eventually borrowed 4,000 euros from a friend to pay smugglers to bring her daughters from Iran to Germany. But they only made it as far as Greece.
Arazu has not been able to hug her girls for more than two years.
A broken country
Greece is Europe's beggar, a destitute nation surviving on handouts. Yet for people like Arazu and her children, it is a beacon, an escape from brutal daily life in war zones and under harsh regimes.
The journey from Afghanistan, Iran and Turkey, over mountains and across the water to Greece is well-trodden by smugglers and their human cargo. Those attempting to enter Europe risk their lives. Bodies are pulled from the waters between Turkey and Greece; others are never recovered.
Arazu's daughters are among the most vulnerable of the exodus: children without parents. These children dream of reaching Italy, Germany or Scandinavian countries.
The reality is usually far grimmer. Thousands are caught in Greece each year.
There are common strands to the stories of immigrant children. Some parents send their children ahead to establish a life in Europe, hoping they will eventually bring the whole family over.
Others, like Someyeh and Zahra, try to reach parents and siblings who have already sought asylum.
The Greek state has an obligation to ensure the children are treated well, placed in the care of nongovernmental organizations and considered for asylum or reunion with a family member. But the centers run by NGOs have an open-door policy, and many children simply run away.
The children have little interest in staying in Greece. The country is broken, the asylum system is troubled and anti-immigrant sentiment is high.
Social unrest and severe austerity measures are blamed for the country's increasing violence, and the political far right has benefited from the discontent.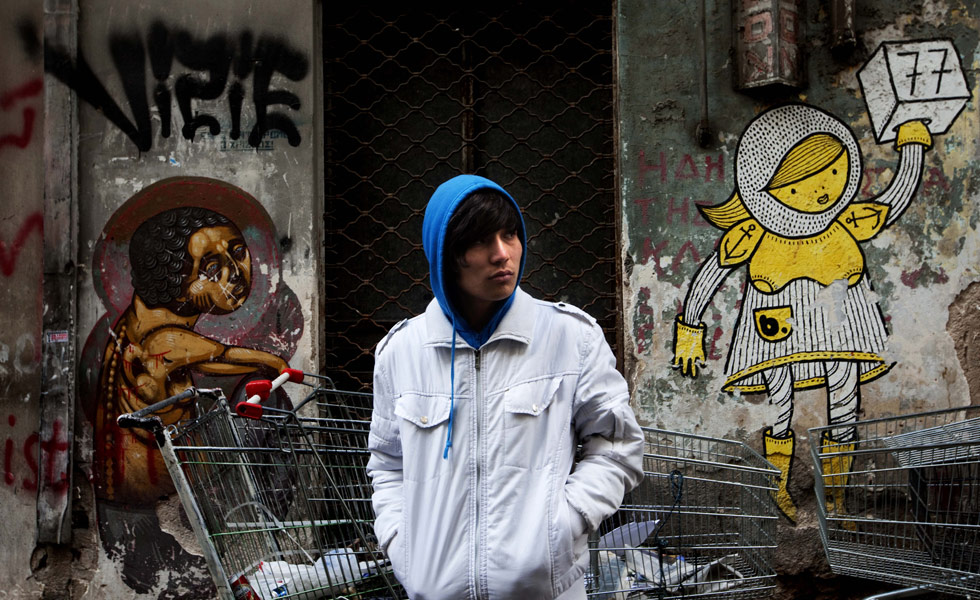 A teenager's hopes destroyed
Afghan teenage boys are common travelers, making up a huge exodus from the war-torn country. Ali Reza Heydari, 17, took off from his home without telling his mother, Europe on his mind and freedom in his dreams. His family moved from Afghanistan to Iran when Ali Reza was young. Like the Akhlaqi family, they are Hazara, an ethnic group that has suffered persecution and discrimination throughout Afghanistan's history.
The Heydari family settled in Isfahan, a city in central Iran about 400 kilometers south of the capital, Tehran. Ali Reza's mother is unwell with diabetes. Ali Reza, having seen his mother fall sick, dreamed of getting a European passport and becoming a doctor.
Through a translator, Ali Reza told us that living in Iran and being unable to get an education left him feeling "like a blind person." For immigrants, school cost around $2,000 a year, and Ali Reza's father – working as a laborer – could not afford it.
Dreams -- and reality
Ali Reza explained why he left: "I wanted to build my future, I wanted to continue my education and I wanted to develop. And I thought it was a way for me." He headed to Tehran, where he contacted smugglers. Friends had given him their numbers. The smugglers told him: "Don't worry, it will be OK."
Ali Reza was packed into a truck with 50 other people, in a space that could fit perhaps a dozen. At one point he was terrified a friend would die from a lack of oxygen and asked people to give him space. But then Ali Reza passed out before being awakened by slaps and punches.
The group was dropped off near the border with Turkey and began a walk through mountains. "They used to tell us just a little more, just a little more," Ali Reza recalls of the journey, which he says took 40 hours. They'd been told the walk would take three hours. The smugglers would "give us a little bread with yogurt, then we would keep moving."
After crossing the border, the group took a bus into Istanbul. Ali Reza contacted his parents and asked them for money – the journey cost $2,000 in total -- so he could pay the smugglers and take the final leg into Greece. If the children can't find the money, smugglers can make them work until it's raised.
Ali Reza's group made it to the Evros River, which divides Turkey from Greece and is a common crossing for immigrants. About a dozen were piled into a plastic boat designed to carry only a few people. Two rowers pushed off into the cold April air. Ali Reza said he was caught on that first trip and sent back to Turkey. But he soon tried again, and this time he made it.
He traveled by train to Athens and set up home in Pedion Areos, a central Athens park where a street community of migrants lives. He slept atop a graffiti-laced, concrete-block building and survived on food from a charity. He had no money. He avoided predatory men who prowled the park looking for sexual favors. At one point he was beaten and left with an injured shoulder.
Pedion Areos was "not a safe place," he told us. "Even the police that are in charge of protecting the people are a danger for us."
Having escaped home, he was now desperate to escape Greece.
A route stalked by death
Ali Reza made it to Europe. So did Arazu and her children. But death stalks this journey, and others aren't so lucky.
A report on unaccompanied minors, published by the Greek Council for Refugees last year, reveals the brutality of the route. Families are separated while crossing the borders, and "high numbers" of children drown in the Evros River or die from hypothermia, the report found. "Most of their bodies remain unclaimed," it said.
The report focused on the Fylakio detention center, a short distance as the crow flies from the Turkish border. The council observed the children's detention conditions between March 2011 and March 2012. It found overcrowding, a lack of heating and sanitation and limited natural light made everyday life "literally unbearable."
Some children were forced to lie on the floor with mats in pools of water or next to leaking sewage. Meals were poor and telephone access limited, with the strongest children battling their way to the phones ahead of the weak. The report noted how teenagers escorted outside after weeks in detention "remain in the shade for their eyes ache from the sunlight."
Last year, the center was closed for some months and refurbished. Since then, conditions have improved, police and refugee advocates say.
We were not allowed inside the center but were given permission to film the building's squat red-and-yellow exterior, circled by a barbed-wire fence, from a nearby road under police escort. Here, below sodden clouds that sweep to the gray horizon of Bulgaria, the barking of stray dogs in the distance, we observe little movement inside; the policeman says the inmates are likely asleep.
A hand twitches at the bars of one window; its owner's face is a pink blob in the dim light. The fingers eventually withdraw and close the blinds against the world. Fylakio is a grim outpost, but this is where many immigrants end up. And it's what they want.
Being captured means being registered. The temporary paperwork this provides gives immigrants the space to figure out the next leg of their journey. The "pink papers" grant a few days, or weeks, during which they are legally in Greece. In that time they are expected to seek asylum, leave the country or seek a family reunion.
Phone calls of hope
Having made it to Munich, Arazu and her sons enjoy a modest life. Her one-bedroom flat has three single beds pushed up against the back walls. A bright pink curtain hides the bathroom area and a squat cooker serves as the kitchen. Arazu knows it's not much, but she's deeply grateful.
"I love it here," she says. "I am so thankful and appreciative to the German government. My sons go to school, all the things they would never have had the opportunity to do."
But grief and stress continue to weigh on her. Last August, as her boys played in the park while on school holiday, Arazu was worried; she hadn't heard from her daughters for a week. The girls were in Turkey, where they had been in and out of detention. They'd get captured on the streets without papers and detained. They would at times manage to talk their way out before being captured again.
Arazu had last spoken to her girls on Zahra's birthday. Someyeh had called and asked her mother if there was a way to celebrate. She wanted her mom to see if the smugglers would let them play in the park next door.
Arazu wanted to arrange an additional treat. In Iran, the girls loved a dessert known as KIM: chocolate-covered ice cream on a stick. Arazu called an Iranian family she knew in Turkey and asked them to provide some Turkish lira so her daughters could buy ice cream and nuts to enjoy in the park. Communication had dropped off since then.
But that bright afternoon in Munich, Arazu's mobile phone rang. It was Zahra. The girls had finally crossed the Turkish border into Greece. But they had been caught and held at Fylakio detention center. Though conditions there had improved since the center was closed for renovations, the girls were desperately unhappy.
Zahra told her mother she was sleeping on the floor and sharing a blanket with Someyeh. "This place is no good," Arazu recalls her saying. "Nobody is looking after us."
Arazu remembered what a friend had told her, that once they were in Europe her girls would be within reach. "It's a good thing that you left Turkey," she told Zahra. "You have left Asia and now you are in Europe." But she knew it wasn't really that easy. She had no money to reach Greece and would have to fight to get her girls to Germany.
As Zahra spoke, other detainees lined up to use the phone. Arazu asked Zahra for the phone number so she could call again, but Zahra didn't know it. Zahra had to hang up before Arazu had a chance to speak with Someyeh. Unable to reach her daughters again, Arazu could barely cope. "I waited and waited, but they didn't call me and I was going crazy," she recalls. "I couldn't sleep at night."
Arazu's worries increased when cooking oil splattered and burned Reza as his mother was frying potatoes. Arazu tried to take him to a doctor, but he refused to go; he was still scared from memories of a doctor's injection in Iran.
In a panic one night, Arazu ended up lost in the streets and unable to find her way home. She slept on the road before being found and taken to a hospital for psychiatric treatment. "I was in a hospital psychiatric ward for 12, or maybe 20 days," Arazu says. "After I left the hospital, I realized that they weren't going to return my children to me."
Yasin and Reza had been taken in by Germany's social services. Two weeks after Arazu left the hospital, and after she had purchased a small dining table and new clothes to satisfy social workers' requests, her boys were returned.
Those days are hazy in Arazu's memory. But one moment stands out. Yasin was visiting Arazu in the hospital, and he passed her the phone. It was Zahra. They had been released from the detention center. "I was really happy," Arazu says. "I got better."
After 20 days in Fylakio, Someyeh and Zahra had been picked up by Arsis, a nongovernmental organization focused on helping young immigrants. They were taken to Arsis' center in Alexandroupolis, a coastal city in the Evros region near the Turkish border.
The walls there are adorned with children's artwork that reveals the trauma of separation. One montage of magazine pictures is dominated by a cutout of a gun; in the distance a shadowy father figure reaches out to a child as he walks away.
Someyeh and Zahra began attending a local school -- which the center's social worker, Ermioni Stamati, says they "love" -- and have picked up some Greek phrases. They challenge each other in air hockey, play with a pet baby rabbit that was gifted to them and are putting together a huge puzzle -- a Picasso, in difficult shades of gray.
Personalized clay pendants they've made are etched with dreamlike stories reflecting their lives. Someyeh's pendant tells of going to Germany, where the family will be "very happy" and she can train to be a nutritionist.
Zahra's tells the story of chicks who lose their mother and are taken away by a cat. But "her mother comes, tells the cat to go away and here they are together," Zahra explains, twisting the pendant around as she tells the story. Zahra looks up as she finishes her tale.
"I don't want to lose my mother," she says. "It's happened to me. I lose my mother and I hope to be near to her again very soon."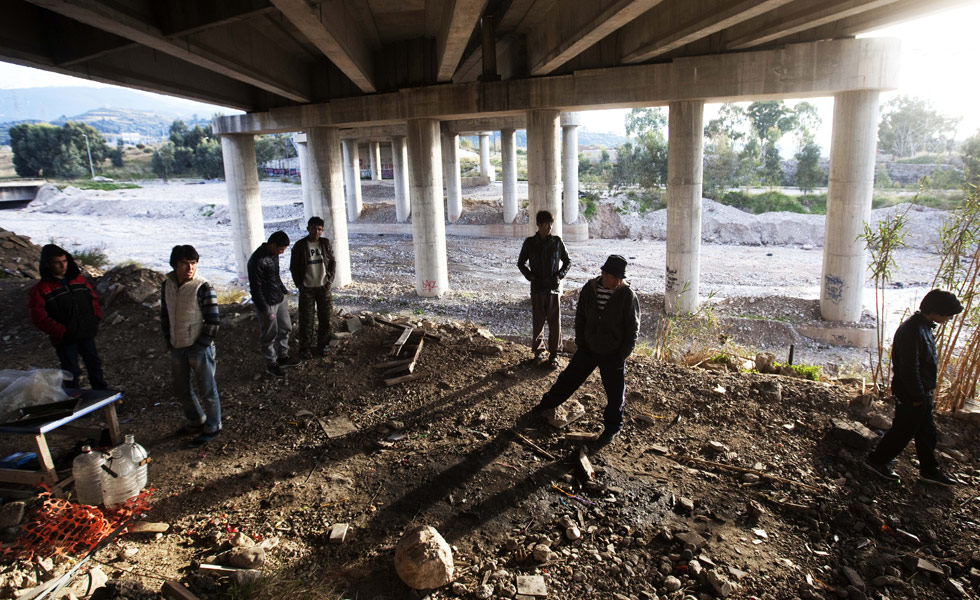 Brutal reality of immigrant life
Greek and European officials are working to prevent people like Zahra, Someyeh and others from ever being able to enter Greece. The European Commission and Frontex, the European agency that coordinates border control for the region, have allocated almost 100 million euros to boost Greece's border controls through 2013. Greece contributes 5% to 30% from its own coffers.
The country has effectively shut off 10.5 kilometers of its 200-kilometer border with Turkey, finishing a barbed-wire fence in December. It creates an ominous addition to an already grim area, where Landmine and Cluster Munition Monitor figures show that almost 25,000 antipersonnel mines -- laid by Greek authorities amid tensions with Turkey in 1974 -- have been cleared since 2009. The fields remain peppered with anti-vehicle mines.
The fence and the addition of 2,000 border officers a year ago, backed by Frontex, have proved an effective force in the Evros region. But closing off one strip can be like "squeezing a balloon," according to Frontex spokeswoman Ewa Moncure. "It usually tops up somewhere else."
More dangerous routes have already claimed lives. In December, 22 bodies were pulled from the Aegean Sea after a boat sank as it attempted to ferry immigrants to Lesvos Island from the Turkish coast.
Georgios Salamangas, general police director of East Macedonia and Thrace, a swath of land that encompasses the Evros region, has been policing the area for nearly three decades. At his desk in Komotini, with multiple phones demanding attention, I ask the moustachioed career cop about the failings outlined in the Greek Council for Refugees' report on Fylakio. Salamangas details improvements to the center and says the country "never stops" in its efforts.
When questioned how Greece copes with its status as a stepping-stone to Europe, he replies firmly that the Greek people "will succeed." Formal during our filmed interview, Salamangas relaxes once the camera is off. He is eager to show us footage of border patrols capturing smugglers after they dump their human cargo on the river's edge. One clip shows police smashing into a smuggler's boat; Salamangas looks on with pride. "Greek policeman," he declares.
'Called a Nazi'
Those who do make it into Greece face a volatile atmosphere, with anti-immigrant sentiment feeding support for the political far right. Golden Dawn, whose members have adopted the Hitler salute, has seen its support soar. The party campaigns on an anti-immigration platform and blames foreigners for rapes, murders and economic woes. It won 18 parliamentary seats in last year's elections.
Roberto Chaidi, a stocky man who sits proudly amid the piles of socks in his eponymous store in central Athens, tells us he is a Golden Dawn member. His shop is surrounded by the multicultural make-up of Greece, but he says illegal immigrants do not respect the country's way of life. Merging cultures, he says, is too hard, asking: "Is it possible to mix a Chihuahua with a pit bull?"
Golden Dawn has been accused of violence, but Chaidi says the party is defending the country. "If fighting for my nation means that I get to be called a Nazi and a racist," he said, "then I am."
His comments are echoed on the streets of Greece. And it is this environment that meets illegal immigrants.
Their numbers are down, yet the people continue to come. Frontex calculates almost 40,000 illegal immigrants entered Greece, a country of 11 million, in 2012, compared with 57,000 who breached the border in 2011 and 55,000 the year before.
A teenager's despair
Nearly three hours' drive from Athens, past the olive groves and citrus orchards that hug the Peloponnese coastline, is the city of Patras. It is a magnet for immigrants who attempt to smuggle themselves onto the ships that slide peacefully out of Patras Port, through the Ionian Sea and on to Italy.
They live in abandoned blocks and under bridges, surviving by building tents from street debris and tapping street lights for electricity.
Ali Reza, who'd made it to Athens from Iran, came to Patras in his mission to escape Greece but was caught. He took off back to Athens, where he was taken in by fellow Afghan immigrants, 18 of whom live in a three-bedroom house. He survived off food from a soup kitchen.
It was a miserable existence, and Ali Reza has had enough. He plans to return to Afghanistan. He told us authorities had supplied him with a ticket out of Greece and a promise of 300 euros on his arrival in Kabul.
The teenager will try to pay smugglers to transport him from Kabul back into Iran, where he can tend to his sick mother. He will need to pay them about $1,000.
He spends a final evening with the immigrants who took him in as one of their own. Ali Reza is so grateful to them that he can barely find the words. "I wish I had something to give you," he tells them. "But I have nothing."
He leaves Greece with mixed feelings. "I am getting out of this situation, leaving these difficulties," he says. "But I am sad because I could not reach my goals. My future is destroyed."
The next morning, he packs his backpack and walks to Athens' Syntagma Square to take a bus to the airport. He sells his phone for 30 euros to pay for the 5 euro bus ticket, and he boards with a quick backward glance at the city.
We've been unable to reach him since.
Struggles -- and success
In Munich, Arazu goes by public transport with a social worker to a 13-story block and the clinic of Dr. Babrak Kasi. Arazu is here for DNA testing, requested by the German authorities, to prove links to her daughters. Kasi, who is also Afghan, chats quietly with her as he swabs Arazu's mouth.
The Bavarian Refugee Council pays 365 euros for the test, but the outlay is a struggle for the human rights organization. Arazu is not in a position to help; as a refugee, she receives 1,000 euros in benefits to live on each month. She sends 200 euros to the friend who lent her money to get her daughters into Europe.
In Greece, meanwhile, the girls' social worker at Arsis has been actively trying to get the family reunited. After months of work, her lobbying -- along with that of the UNHCR in Germany – has proved successful. In the end, the DNA test was not needed; the girls have been approved to be reunited with their mother.
But government funding for programs like Arsis is minimal in Greece. Stamati, the social worker, has been forced to raise money through corporate donations and selling homemade goods. She says she's gone months at a time without pay but loves her job, and continues as best she can.
The Alexandroupolis office of Arsis now houses 12 children. Stamati strives to ease their trauma by playing games, putting them into local schools and teaching them crafts.
And there are moments when all her hard work pays off.
A family's joy
After her flight from Munich and near four-hour bus ride from Thessaloniki, Arazu arrives outside the Arsis office, a squat two-story building near the center of Alexandroupolis. It is dusk, but Arazu waits patiently outdoors for the signal that it is time to go in.
Zahra and Someyeh have been told they're going to Munich, but they don't know when -- or that their mother has come to collect them.
Stamati has arranged a goodbye party with local children and those staying at the center. Cakes, muffins and juice are spread over a table in the NGO's lounge, and the teenagers have turned the music up loud. Stamati gathers the crowd for the girls' farewell gift.
"I have a present for you," she tells them. "From all the children, and from all of us." She hands over a packet of white paper wrapped in a pink ribbon. The girls unfold it and gaze at the contents. It takes a few seconds for them to comprehend what it means.
They are holding plane tickets to Munich, departing in two days. The papers show they will be traveling with their mother. Zahra collapses onto the floor with a gasp. Someyeh wipes her eyes and looks up, her face shocked.
Arazu is still standing outdoors. An Arsis interpreter pokes his head out the door and sweeps his arms toward her in excitement.
Arazu enters the building, walks up the marbled white stairs and turns left into the lounge, bright with music and laughter. She doesn't make it far. At the doorway, Zahra and Someyeh throw themselves into her arms.
Additional credits: Munich film, Patrick Rappsilber. Film executive producer, Andrew Carey. Editor, Fiona Sibbett. Enterprise editor, Steve Goldberg. Design by Nural Choudhury and Inez Torre, built by Nav Garcha. Follow up interviews with Arazu Akhlaqi conducted by Nahid Shahalimi.