Crime Scene Investigation and Evidence Collection
Late Tuesday afternoon of April 20, crime lab personnel for the Jefferson County Sheriff's Office met with representatives from the Colorado Bureau of Investigation (CBI) and the Federal Bureau of Investigation (FBI) to begin planning the details for the thorough processing and reconstruction of the crime scene at Columbine High School. Of utmost importance was to maintain the integrity of the scene and ensure the ability to reconstruct the events of April 20.
It was decided that teams would be formed to include experts in the field of blood spatter, firearms and ballistics, and general crime scene processing. Teams would be comprised of personnel from different agencies, including experts from CBI, FBI, the Bureau of Alcohol Tobacco and Firearms, Jefferson County Sheriff's Office, Arapahoe County Sheriff's Office, and Arvada, Wheat Ridge, Denver, Greenwood Village, Thornton and Littleton Police Departments.
All teams would have at least one person from the Jefferson County Sheriff's Office assigned to them. This individual would take custody of the evidence collected from the teams and then transport the evidence to the temporary evidence vault located on scene. This was done to maintain the "chain of custody" of the evidence.
Because of the number of bombs still in and around the high school that first day, all forensic team members were told to clear the scene around midnight and to return by 6 a.m. the following morning.
On April 21 an initial walk-through team consisting of Sheriff's Office Sergeant Randy West, Lead Investigator Kate Battan, Incident Commander Lt. David Walcher, Jefferson County Coroner Dr. Nancy Bodelson, and lab supervisor Chris Andrist entered the scene to gather information for the identification of victims and the briefing of the forensic teams as to conditions inside the school.
After the initial walk-through, two teams of forensic specialists were assigned to enter the school and take initial photographs and videotape the interior. Each team separately documented the scene with video and photos to avoid any equipment malfunction problems.
At about noon, a meeting of all forensic personnel was held to assign individuals to various teams and appoint team leaders. Seven teams were created and each team was assigned an area to process.
Team 1 -

East Side of Library:
Team Leader

Barry Goetz

Team 2 -

West Side of Library:
Team Leader

Thomas Griffith

Team 3 -

Hallway in front of Library, Cafeteria:
Team Leader

James Crippin
Team 4 -

Science Area, South Main Hallway:

Team Leader

Robert Lloyd
Team 5 -

Main Entry, West Entry, North Main Hallway:
Team Leader

Barbara Ray
Team 6 -

Exterior of School, Cafeteria:

Team Leader

Carl Schlaff

Team 7 -

Administrative Area:

Team Leader

Gary Hoffman
Team leaders were responsible for ensuring their teams followed standard guidelines for crime scene investigation and assigned individual tasks to team members.
Processing of the scene involved collection of numerous evidentiary items such as casings, bullets, bomb fragments and the examination of bullet or projectile holes for ballistic reconstruction. Teams 1 and 2 examined over 140 bullet or projectile holes for reconstruction. They collected more than 160 projectile/fragments and over 60 casings or spent shotgun shells. The teams reconstructed events for 10 of the victims and both suspects.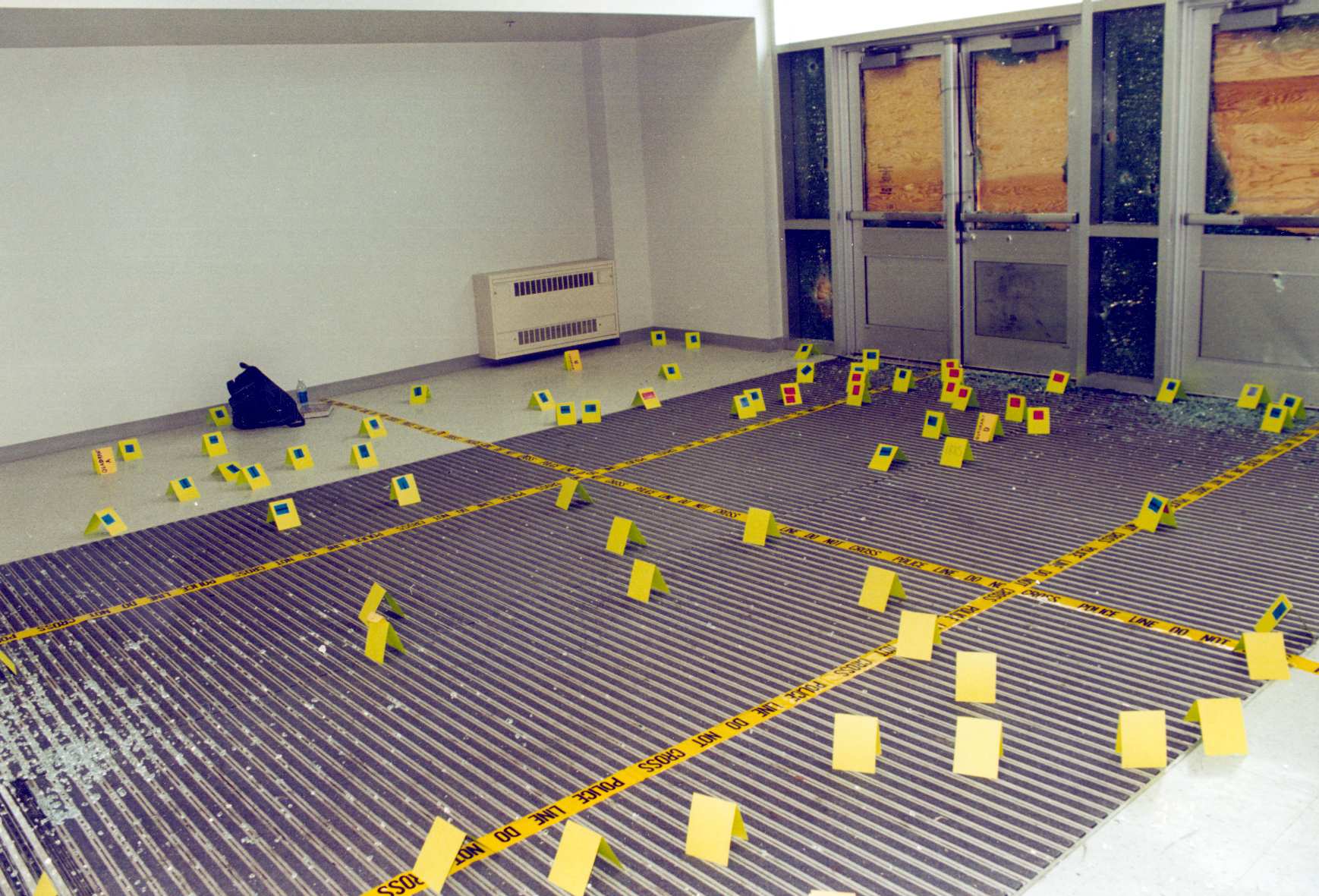 Team 3 reconstructed over 10 ballistic events, examined more than 50 explosive related items and documented two areas. In the cafeteria they examined and identified more than 400 backpacks. Team 4 examined over 50 bullet or projectile holes for reconstruction and collected more than 40 projectile/fragments along with over 15 casings or spent shotgun shells. They reconstructed events for one of the victims, and documented and examined over 1,000 backpacks located in the science, math, and social studies areas.
Team 5 examined over 140 bullet or projectile holes and collected more than 60 projectile/fragments and 30 casings or spent shotgun shells. Team 6 collected over 150 casings or spent shotgun shells, and reconstructed events for two victims. Upon completion of the exterior of the school, they documented and processed the cafeteria area along with Team 3.
While forensic teams worked on their designated areas, the ATF K-9 teams continued to clear the school, checking for bombs that might be located in lockers, backpacks, rooms, and vent units.
Throughout the crime scene processing, daily briefings of all forensic personnel were held each morning. All information was reported to the coordinator/facilitator for the crime scene and, in turn, reported to Lt. John Kiekbusch of the Sheriff's Office Investigation Division.
The evidence team, comprised of Jefferson County Sheriff's Office personnel and led by team leaders Deputy Al Simmons, Vicky Spelman, and Sgt. Pat Woodin, set up an evidence collection area on the east side of the high school's main entrance. A portable evidence vault was brought to the scene for the storage of items as they were collected. Tables staffed by investigators were set up with heat sealers, markers, and evidence tags. Each forensic team was assigned a series of evidence numbers from the booking team. Each piece of evidence was photographed, measured, assigned a number, sealed, and logged to become part of the more than 10,000 items collected and 10,000 photographs taken.
The crime scene investigation began April 21, 1999 and continued into June. On June 15, Columbine High School, with the exception of the library, was turned over to the Jefferson County R-1 School District. The entire school was turned over to the school district on July 12, 1999 for the repair of damages done to the building by the events of April 20.
Federal and state agencies assisted in the examination and analysis of the evidence collected. Firearms evidence and latent print processing was accomplished by CBI. The
Explosive evidence was examined and processed by the ATF. The FBI assisted with the crime scene documentation, particularly in the creation of a three-dimensional model (shown below) of the school library and cafeteria areas. They also produced event by event diagrams of the events of April 20. Photos of both of the projects are contained in this report.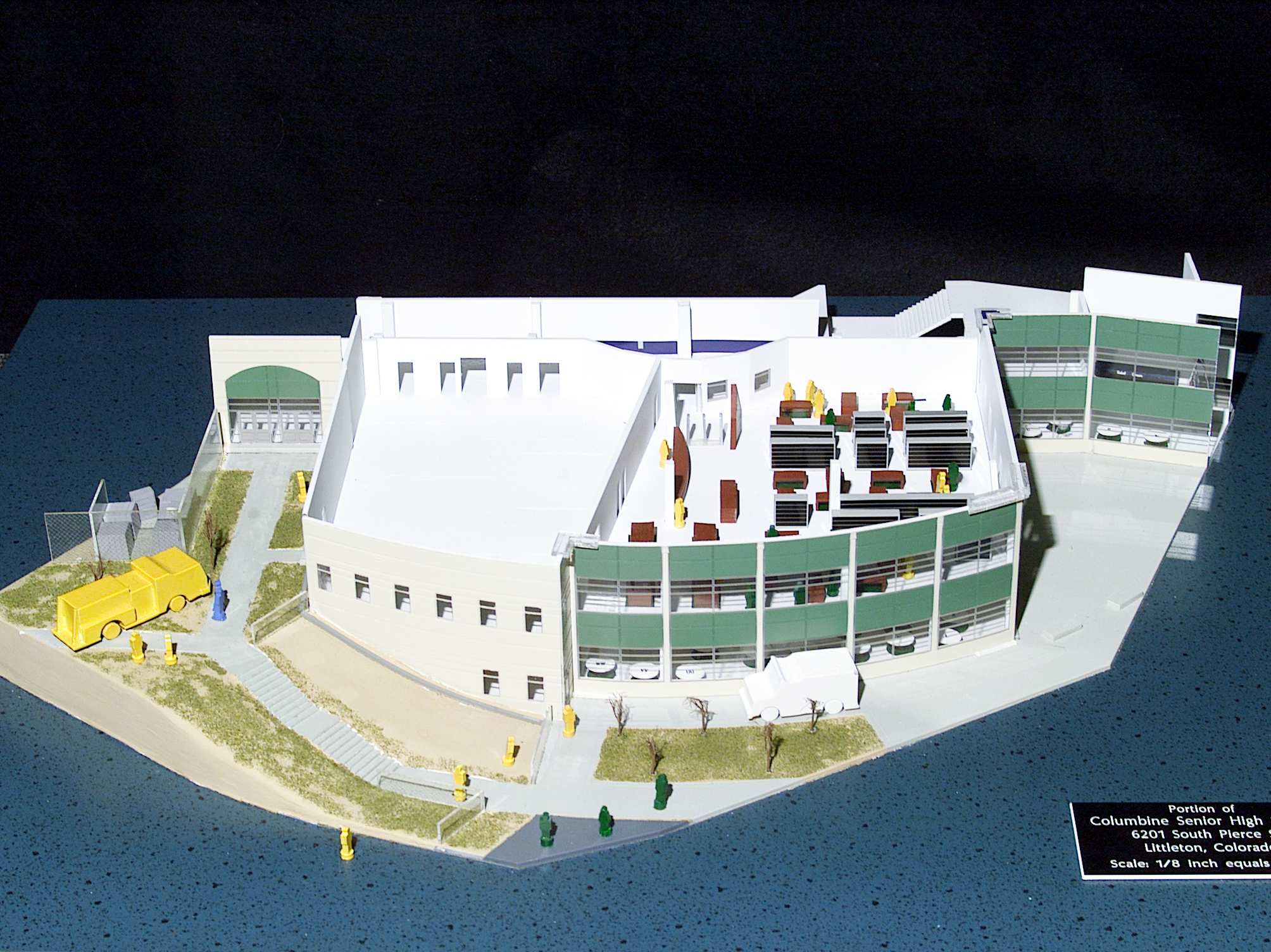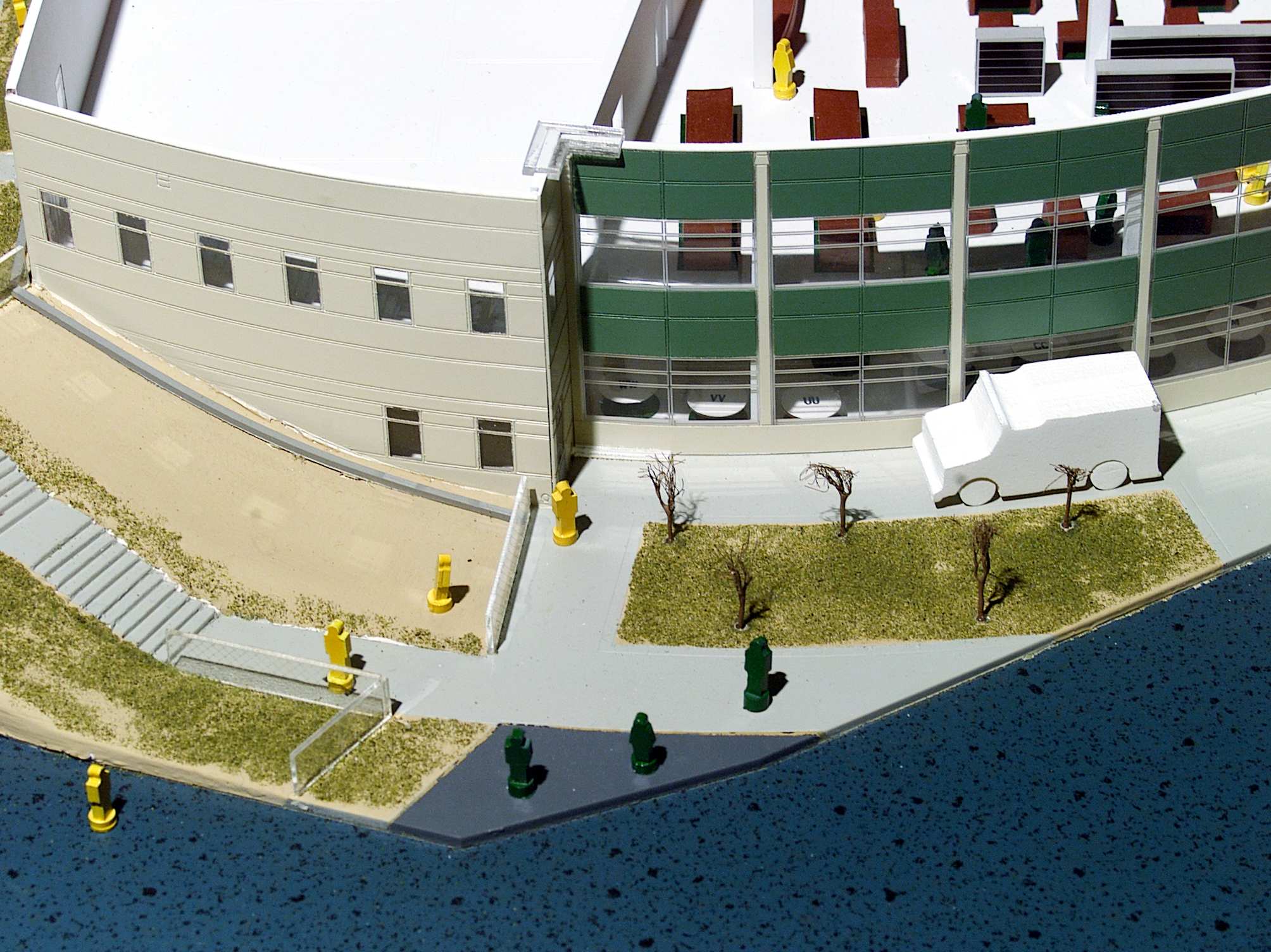 ---