The Layout of Columbine High School
Columbine High School is located at 6201 S. Pierce St. in Littleton, Colorado. The school, named for the south Jefferson County area in which it is located, had a student population of 1,945 at the time of the April 20, 1999, shootings.
The high school opened in 1973 and was remodeled and expanded in 1994 and 1995. The layout of the school was drastically changed following the remodel, with clusters of classrooms and a new cafeteria and library added to accommodate the growing population in south Jeffco.
The expanded Columbine High School is a 250,000-square-foot building on two levels, a total of 5.3 acres under cover, with 75 classrooms and 25 exterior doors. The lower level incorporates the cafeteria and food preparation areas, a teachers' lounge, the first level of a two story-auditorium, and a wing of primarily business, foreign language and special education classrooms.
The upper, main level houses the school's administration and counseling offices, the second level of the auditorium, the school library, an athletic wing and gymnasium, an art wing, and departmentalized areas for social studies, language arts, math, science and music, both vocal and instrumental.
The classrooms are clustered together according to department and each department has its own traffic circulation pattern. While major corridors divide the various departments, each departmental cluster also has side or U-shaped hallways into which the classrooms feed. Those unfamiliar with the school's layout often describe it as a maze of classrooms and work or storage areas.
| | |
| --- | --- |
| MOVE CURSOR OVER PHOTO TO START VIDEO - CLICK STOP BUTTON ON TOOL BAR AT TOP OF PAGE TO STOP VIDEO | |
Additional rooms can often be found within a classroom. For instance, the instrumental music area has an office and three practice rooms feeding into it. There are 16 different individual workrooms, offices or storage closets off the art area. Each of those 16 rooms is equipped with its own door, many of which were locked on April 20.
The first ad hoc SWAT team entered the school building on April 20 through a side entrance door on the main level, southeast of the main school entrance facing Pierce Street. The side door led them directly into a cluster of social studies and language arts classrooms. The team members faced internal hallways straight ahead or to their left; they could not see any major corridors leading to other parts of the school or any obvious signs of where the smaller internal hallways led. Searching the school could be compared to searching 100 homes that are 2,500 square feet in size.
---
FINAL SWAT TEAM MOVEMENT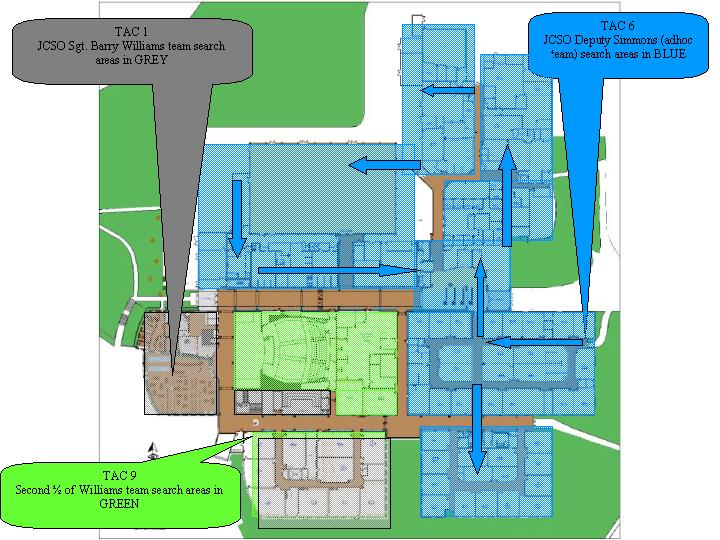 ---
AD HOC SWAT TEAM ENTRY AND PATH (east side)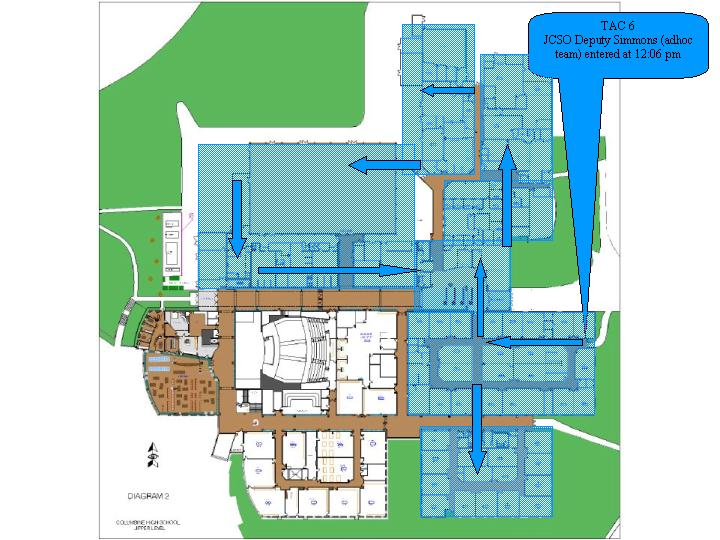 ---
SWAT TEAM ENTRY AND PATH (west side)
Cafeteria and Lower Level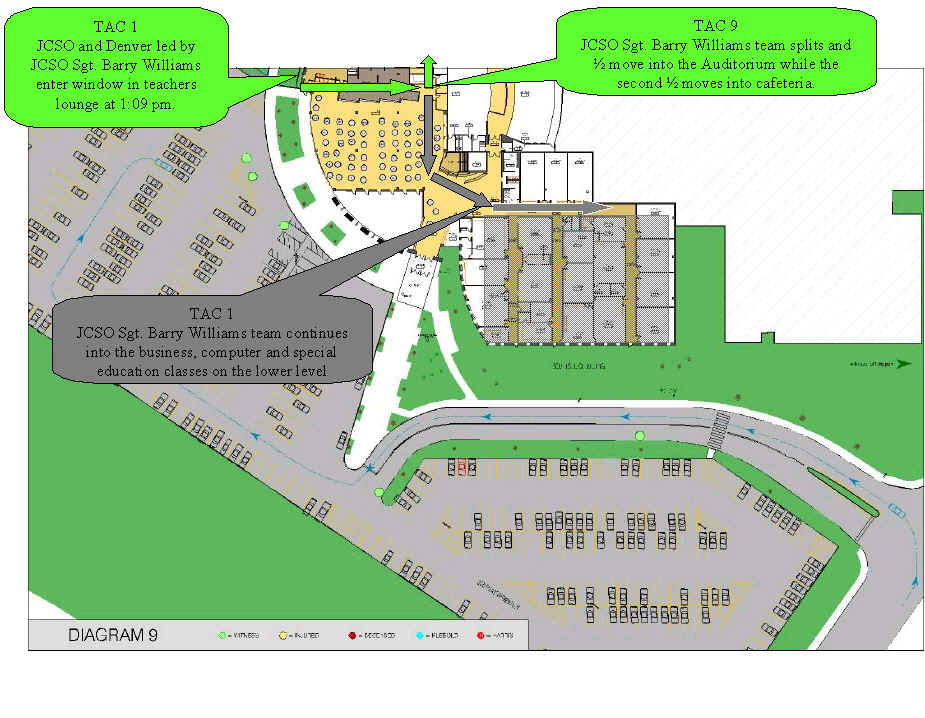 ---
SWAT TEAM ENTRY AND PATH (upper level)
Auditorium and Science area and Library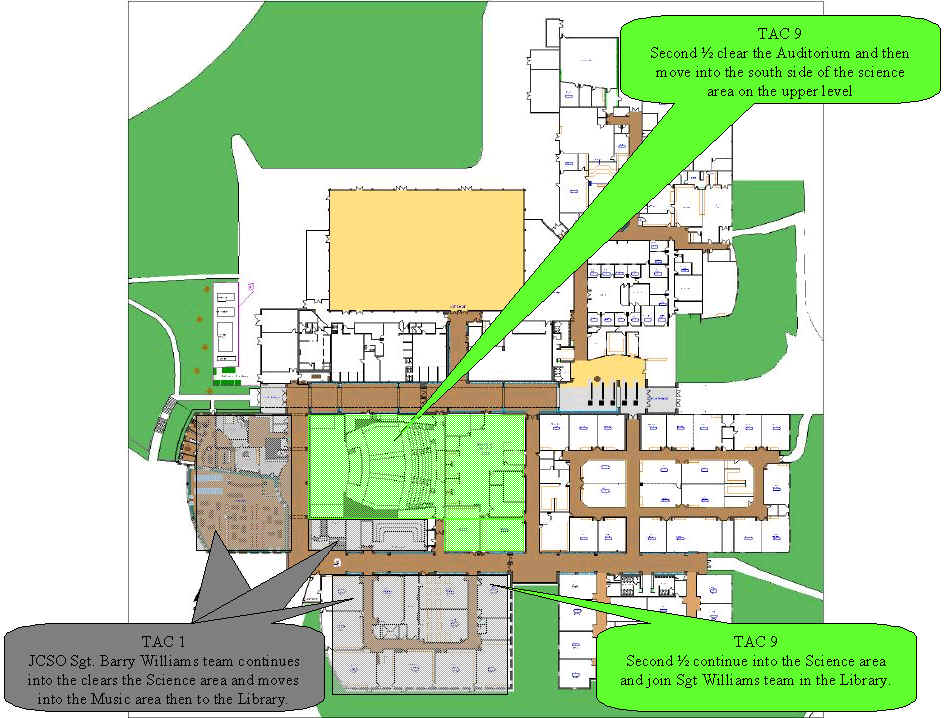 ---