RAFAH BORDER CROSSING, Egypt (CNN) - It's golden hour - those last few moments of warm sunlight before dusk . Two pairs of Israeli F-16 fighters are wheeling overhead on repeated bombing runs over southern Gaza.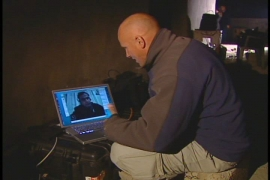 CNN's Karl Penhaul talks with Jawad Harb via Skype.
With western media banned from Gaza, we're watching from a rooftop on the Egyptian side of the border. It looks like a movie.
But Jawad Harb brings me back to earth- thanks to his laptop and an internet connection that is remarkably still up.
Harb is a Palestinian aid worker for CARE International. He's hunkered down with his wife and six children at his home in Rafah on the Gaza side. My rooftop and his home are perhaps just one kilometer apart.
After a day of trying, I manage to raise him on Skype. He's fired up his generator for a few moments with the dribble of fuel he has left.
We Skype as the bombs rain down. The tools of civilization – voice and video over internet - propel me closer to the barbarity and fear of war - right into Jawad Harb's front room.
I hear the fighter-bombers first. At near-supersonic speeds, Harb hears them seconds later. He hears the bombs explode first at the end of his street. I hear the blast seconds later as the shock wave washes over the border.
I can see the flash and plume of smoke clearly through a camera lens. Harb and his family are too scared to go outside. He calculates the distance of the explosion from his home by how much his house shakes.
All you can hear is the horrible sound of bombing, the house is shaking and the panic and the screaming from the children," he tells me.
"Everybody fears these bombings will fall on our houses and they will die in the demolition of the houses. And then there's the sound of the children crying and asking if they're going to die," he explains.
It's a war that's stripping fathers of their ability to protect their families. Harb cannot honestly tell his kids they're not going to die. Instead he tries to distract them.
I get my six children in one room and they snuggle around me like birds and I tell them stories like my mother used to tell me when I was a child. I tell them this war will come to an end soon and there will be no more killing and peace," he says.
It's a time-honored trick. This is the "Arabian Nights" Gaza-style. Each night a new story to stave off the threat of death.
"It's exactly like the Arabian nights, just like you say. One of my children asked me 'dad why can't Ali Baba come and say the war will end in Gaza'. All he hopes for is a magic way to put an end to this violent war going on in Gaza," Harb says.
But there's no "Open Sesame", no magic word to stop the fighting and stop the bombs. And Harb says his kids have stopped believing in make-believe.
"It's hard to convince them. Another tomorrow comes and they hear the bombings and about kids being killed and about homes being demolished," he says, his voice crackling electronically over the Skype internet connection.
Our videochat goes on. Harb explains he and his family sleep in their clothes. They haven't had heating for days. When the bombing starts they open their windows. They don't want the blast waves to shatter the glass.
He also tells me their food is running desperately low.
"We rushed out to try to buy some food. We managed to get some macaroni and rice and three or four boxes of cheese," he said. "We have enough for two days but I don't know what will happen on the third day."
When the outlook is so grim just how do you say good-bye? "Stay safe, say hi to the family," I offer up, before running out of commonplaces reserved for better days.
We hang up, as more explosions rock the night.
Posted by: CNN Correspondent, Karl Penhaul
Filed under: Gaza •Israel