Doha – The Qatar Philharmonic Orchestra (QPO) will perform the music of four contemporary Lebanese composers on June 20 at the Aspire Hall in Doha.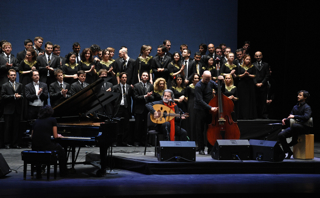 Qatar Philharmonic Orchestra with Lebanese musician Marcel Khalife at the opening of the Kennedy Center Arab Festival Arabesque in Washington on Feb 23. Photo: NICHOLAS KAMM/AFP/Getty Images
The evening's guest conductor, Evelyne Aiello from France, is known for exploring symphonic music beyond its standard boundaries. She has worked with Ballet de l'Opera de Paris as well as numerous famous orchestras such as Orchestre National d'Ile de France and New Boston Orchestra.
Re-orchestrated in 2002 by Ghady and Oussama Rahbani, Jibal as Sawan (Mountains of Silex) Symphonic Suite by the Rahbani Brothers will commence the program. The arranged piece of the 1969 composition is a selection of sequences conveying the message of the young woman "Gherbe," symbol of the resistance against the oppressor. The brothers Assi and Mansour's fame started in the 1950's when their artistic style combined the old with the new with a fine and elegant perspective.
Also on the programme will be Houtaf Khoury's Mirror of Eternity, a piece in three movements depicting the Arab world, where society remains closed and entrenched, through the life of a person whose earlier and later stages are mirrored images of hopes, contradictions and lost opportunities.
Read full story in The Gulf Times
** Note from IME Producer: If you plan to attend this event, blog about it! Send us your videos, photos and thoughts and we'll share them on this blog.
Posted by: IME Producer
Filed under: Culture Calendar •Lebanon •Qatar