If your musical tastes run towards the more esoteric and global, consider attending Morocco's Gnaoua Festival June 26-29 held every year in the seaside village of Essaouira.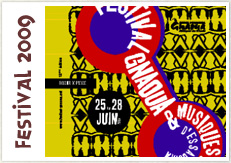 This is the 12th year the Gnaoua Festival is being held in Essaouira, Morocco.
Gnaoua (or Gnawa) is type of music indigenous to Northern Africa, characterized by its soulful chanting. In addition to local Gnaoua musicians from Morocco and other Maghreb countries, other participating artists include American alternative hip-hop group Arrested Development, Latin percussionist Jorge Bezerra, Afro-Brazilian-German group Afoxe Leoni and some of the best Sub-Saharan musicians on the scene.
*Note from IME Producer: If you plan to attend this event, blog about it! Send us your thoughts, photos and videos and we'll share them on this blog.
Posted by: IME Producer
Filed under: Culture Calendar •Morocco