Johanna Fiore, a New York-based photographer, sent us this contribution after attending the Artists in Exile Exhibit in New York City by Iraqi artists living in Syria - see our original blog entry. Send us your feedback on Johanna's entry and let us know if you'll be attending any events.
At a church in New York City on June 20, a gentlemen sat at a large table measuring string to hang paintings. A few pieces were ready for hanging, leaning against the wall.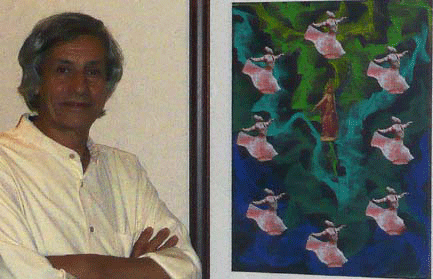 Artist Najim Chechen posing next to his pastel collage Dancing in the Clouds. Photo: Johanna Fiore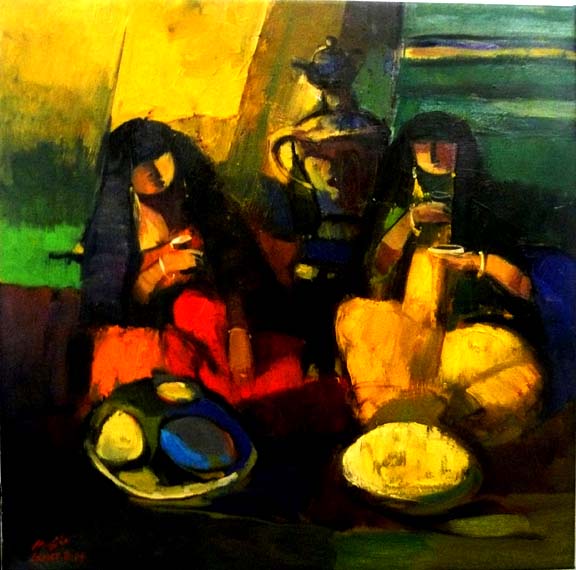 'Tea Drinking' by Amer Bader. Photo: Peter Spano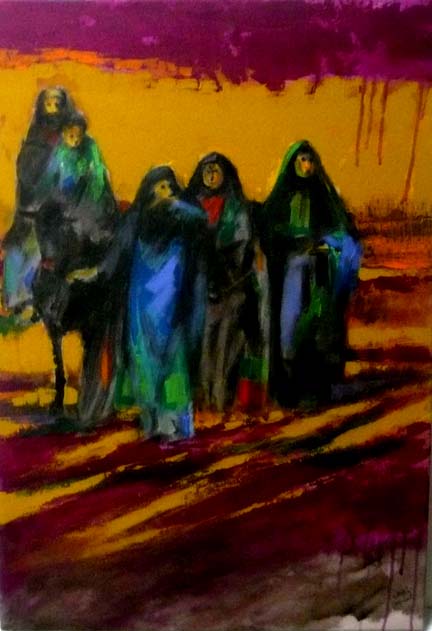 'The Leaving' by Ahmed Ibrahim Al-Karkhi. Photo: Peter Spano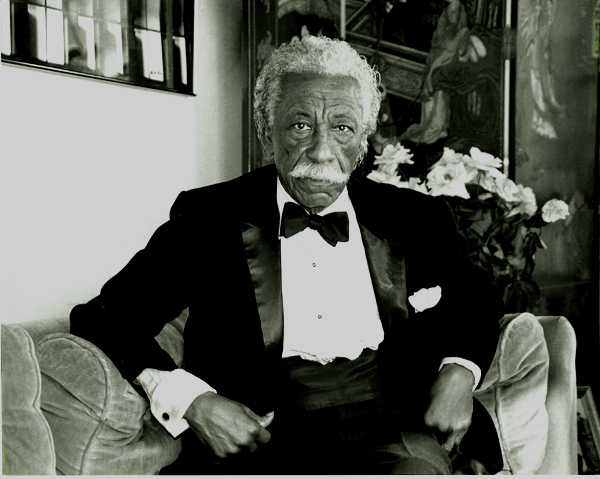 Photographer, composer and writer Gordon Parks 1912-2006. Photo: Johanna Fiore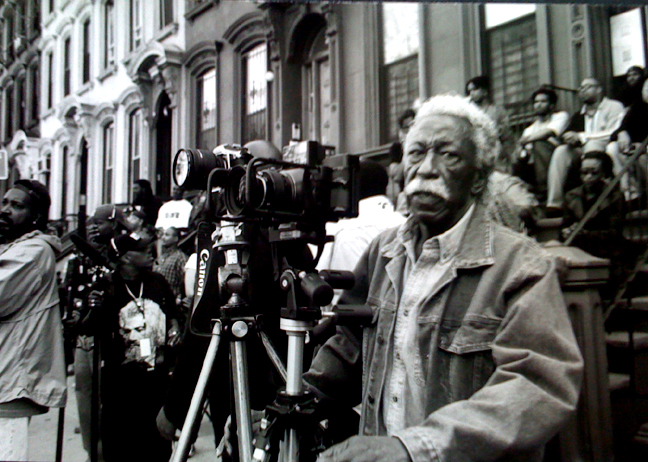 My friend and mentor Gordon Parks in a photo I call 'A Great Day in Harlem' Photo: Johanna Fiore.
My first reaction surprised me. It was not an intellectual response; it was purely emotional. My breath was taken away. Here before me, were unbelievable works of art. I had to sit down.
The gentlemen, Mel Lehman, told me how he brought these paintings back from Damascus in a suitcase and met the artists in person. His organization, Common Humanity is committed to raising the awareness of Iraqi refugees and displaced persons within Iraq. He was interested in promoting "a human understanding." I then knew I wanted to help in any way.
I spent that afternoon with the paintings. As I learned more about the refugee problem-many questions came to my mind. What is a country's moral responsibility to the people of Iraq? What is my individual responsibility as an American citizen? We invaded their country, their homes were destroyed and many were forced to flee from their country. My immediate thoughts were that, as citizens, we have a moral responsibility to help in any way. I also realized that I had become numb to the images of war. As I learned more about the United Nations High Commissioner for Refugees and researched the plight of these artists and other refugees, it reinforced my determination to promote the show.
To explain why I was so moved, I need to tell you about Gordon Parks.
I spent the twenty most exciting years of my life working for master photographer, composer, director and writer Gordon Parks. He was my mentor and friend. His photographs taught me the power of images. His camera was his "Choice of Weapons." Humble and kind, he lived a life free of prejudice and touched the hearts of many. I feel privileged to have been the recipient of his wisdom and time.
All that changed for me when Mr. Parks passed away in March 2006. My world crumbled before me. I lost my job, my grief consumed me, and my passion for life was gone.
I experienced the harsh realities of life. I hit a low I have never known. So, when a friend asked if I would like to see paintings by Iraqi refugees, I was interested.
After seeing the artwork and hearing their stories, my problems seem miniscule in comparison to what these artists face on a daily basis. Yer they are able to express their individual experiences on a canvas despite their horrendous hardships.
The hauntingly beautiful, complex works have a Western influence coupled with such raw emotion that I feel changed as a human being. My energy, creativity, and enthusiasm for life slowly grew as I spent more time with the paintings. What I had lost in March of 2006 was returned to me and for that I am truly grateful.
On opening day, June 20, 2009 many people expressed their appreciation and awe of the works. The exhibition space, the Second Presbyterian Church (6 West 96th Street, New York City), lends itself to the showing. The space represents the power of teamwork and commitment to others. Leslie Merlin, the pastor of the Church, works tirelessly for so many causes. The paintings have already been paid for and any additional funds raised will be donated to the refugees. It has been an inspiration for me to meet so many people who are trying to help others. Artists in Exile: is a true community effort.
Posted by: IME blog producer
Filed under: Archaeology •Culture Contributors •Iraq •U.S.