Note from IME Producer: If you attend one of these performances please send us your impressions, pictures and video!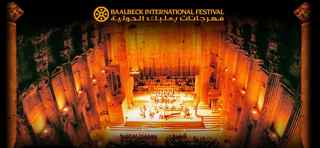 July 11th: David Fray: A bright young French pianist dedicated to the Germanic repertoire. Nominated for the Victoires de la Musique Classique in February 2008, David Fray's outstanding performances have won him numerous awards and have moved audiences from Europe to Asia.
July 16th through 18th: Caracalla Dance Theatre: The world-renown Lebanese folk dance troupe presents in a world premiere a folkloric journey into a Lebanese traditional village.
July 25th: Deep Purple: In a breathtaking historical background, Deep Purple will set the stage on fire. With more than 100 million albums sold worldwide and thousands of performances since 1968, Deep Purple are a true source of inspiration for a whole generation of musicians.
August 1st: Ron Carter Jazz Quintet and Eddie Palmieri Salsa Sextet, from the acclaimed Miles Davis Quintet in the 1960s to being a reference in the education of music, Ron Carter will be performing in Baalbek with his thrilling quintet. Eddie Palmieri has a musical career that spans over 50 years as a bandleader of Salsa and Latin Jazz orchestras and has nine Grammy awards.
August 13th: La Traviata - one of Giuseppe Verdi's most famous and immensely popular operas. "Les Choregies d'Orange" will revive this opera with around 180 participants to be performed acoustically for the first time in Lebanon during a magical evening at Baalbeck.
Posted by: IME Producer
Filed under: Culture Calendar