Note From IME Producer: If you attend one of these performances please send us your impressions, pictures and videos!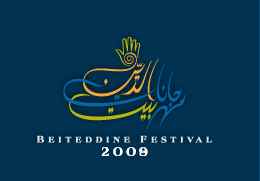 July 18th: Emir Kusturica & The No Smoking Orchestra: A rock gypsy concert by the internationally acclaimed director and musician Emir Kusturica with The No Smoking Orchestra. Kusturica is winner of 2 Golden Palms in Cannes and a Silver Bear in the Berlin film festival.
July 22nd: Madeleine Peyroux: She confidently walks the line where jazz, country and blues collide. Her unique voice can best be thought of as the Billie Holiday of the 1990s.
July 25th: A world Premiere: Gabriel Yared, accompanied by the Budapest Concert Orchestra conducted by Dirk Brosse, soprano: Gaelle Mechaly. The Lebanese Oscar winner and composer Gabriel Yared will perform live for the first time, in his home country, his memorable film music scores. Projections of some of Yared's best movies such as l'Amant and The English Patient...
July 31st: Hanine Y Son Cubano – Big Band: Hanine's amazing voice vehicles the Tarab tradition mixed with Cuban harmony and rhythm. Beautiful cross-mating of two totally different music worlds.
August 9th: Guy Manoukian accompanied by the Armenian Philharmonic Orchestra and Special Guest Mario Reyes from the Gypsy Kings Family. Recipient of the Armenian Music Awards, Guy Manoukian plays Arabic and Armenian fusion at its best.
August 12th: The Palestine Youth Orchestra & Marcel Khalife: In a tribute to Mahmoud Darwish. A poetic opera Ahmad Al Arabi, written by Darwish and composed and performed bu Marcel Khalife, soloist Omeyma Al Khalil and Reem Talhami along with a 100 piece orchestra and choir. The concert celebrates Jerusalem Arab Cultural Capital 2009.
August 15th: Kadim Al Sahir, upon poplar demand, once more Kadim al Sahir returns to sing Nizar Kabbani's poetry.
Posted by: IME Producer
Filed under: Culture Calendar