By Dan Senor and Paul Singer, Special to CNN
Editor's note: Dan Senor is an author, adjunct senior fellow for Middle East studies at the Council on Foreign Relations, and an investor in Israeli companies. Saul Singer is an author and a columnist for the Jerusalem Post. They are co-authors of the new book, "Start-Up Nation: The Story of Israel's Economic Miracle" (Twelve Books).
New York (CNN) - Israeli Prime Minister Benjamin Netanyahu returns to Washington, D.C., Monday to address a conference of the American Jewish Federations at a time of concern in Israel that the U.S.-Israel relationship is adrift.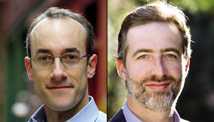 Dan Senor, left, and Saul Singer
Although Netanyahu has used each of his recent U.S. visits to make the case for confronting Iran and its nuclear ambitions, he might consider broadening the subject.
Israel's leader should speak to Americans not just about what threatens Israel, or what Israel's critics say, but also on what is unique about his nation's economy at a time of great economic uncertainty for Americans, when the unemployment rate here has just crossed the 10 percent threshold.
Israel has stood out among advanced economies as a place where the crisis hit softer, and may have passed quicker, than almost anywhere else. Israel's economic growth has not been based on easy credit or a real estate boom, but on the technology-driven productivity gains that economists believe is the key to sustained economic growth.
So what are the lessons for the U.S. economy? Read full article
Filed under: Israel •Science & Technology