By James Montague, CNN
Al Ram, West Bank (CNN) - The Faisal al Husseini football stadium was packed, two hours before kick off, with a noisy sea of Palestinian flags and white hijabs.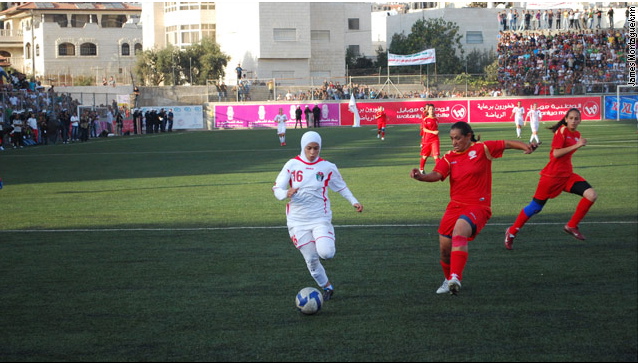 Jordan's captain charges down the wing as they take control of the match. Both teams have Christian and Muslim player, some of whom cover when they play. Photo: James Montague/CNN.
Football matches are always a big deal in the West Bank, but this game was more significant than most. 10,000 women had flocked to the stadium, on the outskirts of East Jerusalem and a mere few meters from the separation barrier that snakes around the West Bank, to watch a historic football match few would have believed possible just a few years ago: the Palestinian women's national team were to play Jordan in their first ever home international.
Both teams gave laps of honor before the start of the game to mark an occasion that is rare in the Middle East. Football is hugely popular amongst women in the region but the development of the game has largely been held back by a social conservatism that disapproves of women playing what are deemed 'men's' sports.
In Kuwait, attempts to set up a women's national team was met with outrage in the country's parliament. The move was halted after Waleed al Tabtabae, a hard line Islamist MP who chairs a committee charged with weeding out 'phenomena strange to society' decided that a women's football team was 'un-Islamic'.
"Committee members expressed their indignation...and total rejection of the idea of the women's football team on the grounds that football is not suitable for women," Tabtabae told the Kuwait Times.
The UAE has only this year launched its own national team. A handful of teams exist in Saudi Arabia, although they are confined to the more liberal university campuses and have to be played in front of small, women-only crowds. In Iran women are banned from attending football matches and have to wear the hijab when they play, even in tournaments abroad.
The Palestinian team has had its own, unique problems to deal with. Set up in 2003 at Bethlehem University, Israeli movement restrictions meant it was impossible to practice on the West Bank's sole grass pitch in Jericho. Instead, they had to train on a concrete handball court and play against local boy's teams. Read full article
Filed under: Jordan •Sports •West Bank •Women