By the CNN Wire Staff
(CNN) - Defying an Israeli blockade, a convoy of ships carrying food and aid resumed its journey toward Gaza Sunday afternoon after mechanical problems caused a delay.
Osama Qashoo of the Free Gaza organization, members of which are on one of the boats, said the flotilla was on the last leg of its journey.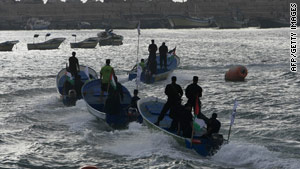 Hamas marine security take to the waters off Gaza City port on May 28 ahead of the expected flotilla.
Morale onboard the ships was high, Qashoo said. "It's the best cruise you could ever take. People are singing and laughing."
The flotilla consists of six boats. Two of them developed mechanical problems.
One has been repaired and will be a part of the convoy. The other will head to Gaza next week.
The flotilla is expected to arrive near Gaza at about 9 a.m. Monday (2 a.m. ET), according to the Free Gaza Movement website.
The boats left European ports in a consolidated protest organized by two pro-Palestinian groups to deliver tons of food and other aid to Gaza to break a blockade imposed by Israel in 2007.
The Israeli government said Thursday it would stop the convoy, and that the Israeli Defense Force has been given instructions to reroute the flotilla to Israel's Ashdod port, where the supplies would be unloaded and transferred to Gaza. The activists remain adamant that they are headed to Gaza.
On Thursday, Israeli government spokesman Mark Regev called the flotilla "a cheap political stunt."
"We barely notice the Israeli threat," Qashoo said Sunday. "What we are doing is saying 'no' to beseiging people for years ... If the price of doing this is prison, let it be, and if the price is success, let it be."
He said participants are prepared - some have written their wills, while others are in contact with family and friends. As of Sunday afternoon, he said, no Israeli ships or aircraft could be seen.
Flotilla participants said in a statement they plan to hold a memorial service on Sunday for U.S. soldiers killed in a 1967 Israeli attack on the USS Liberty in the eastern Mediterranean. Thirty-four American soldiers died and 173 were injured. Read full story...
Filed under: Gaza •Israel •Palestinians