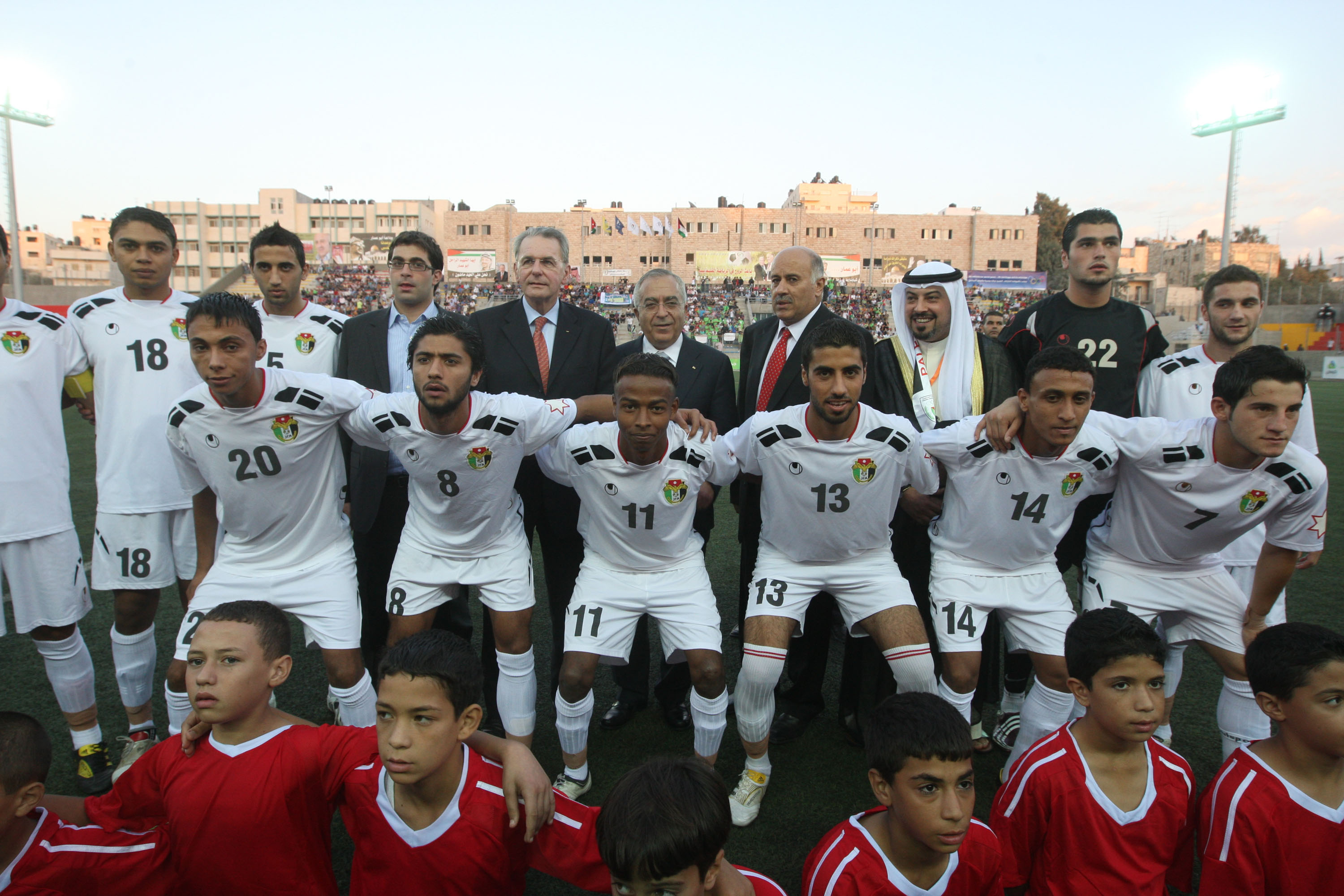 IOC Chief Jacques Rogge and Palestinian Authority Prime Minister Salam Fayyad at West Bank football match (Mustafa Abu Dayeh/Palestinian Authority PM Office)
I asked the Palestinian Prime Minister Salam Fayyad how it felt to be cheered by thousands of Palestinians while showing off his football skills at al-Ram stadium north of Jerusalem.
The reply… "Wonderful.  Just wonderful.  We should be the ones playing with the players watching."
 The "we" refers to him and Jacques Rogge, head of the International Olympics Committee on a whirlwind tour of Jordan, the West Bank and Israel.        
They were all suited and booted but from afar their skills looked pretty good.  But you should take into account I only attended my first football match two years ago – again here at Ram stadium, to watch the first ever Palestinian home match on Palestinian soil.
The IOC visit was high-profile and much welcomed by the leadership and fans alike.  The hope is Rogge can bring pressure on the Israeli authorities, who he is also talking to, to allow more freedom of movement for the athletes to attend competitions overseas.
Rogge has invited both sides to a sporting summit in Lausanne, Switzerland, the IOC headquarters to try to improve the status quo.  He told me he himself cannot be political but sport itself has the power of persuasion.
"Sport is a universal language, everyone understands a sports result around the world, the rules of sport are the same in every country in the world and sport brings people together irrespective of their ethnic origin, their culture, their language, their creed, so that's the value and strength of sport."
Posted by: CNN Correspondent, Paula Hancocks
Filed under: Israel •Palestinians •Sports •West Bank