Watch Inside the Middle East from Aqaba, Jordan this weekend or view it online.
From CNN's Rima Maktabi
Every city has its own character and, just like human beings, at times you need to press certain buttons to discover it. In the Jordanian city of Aqaba, it wasn't easy on my first day of shooting for Inside the Middle East (IME) to sense the city.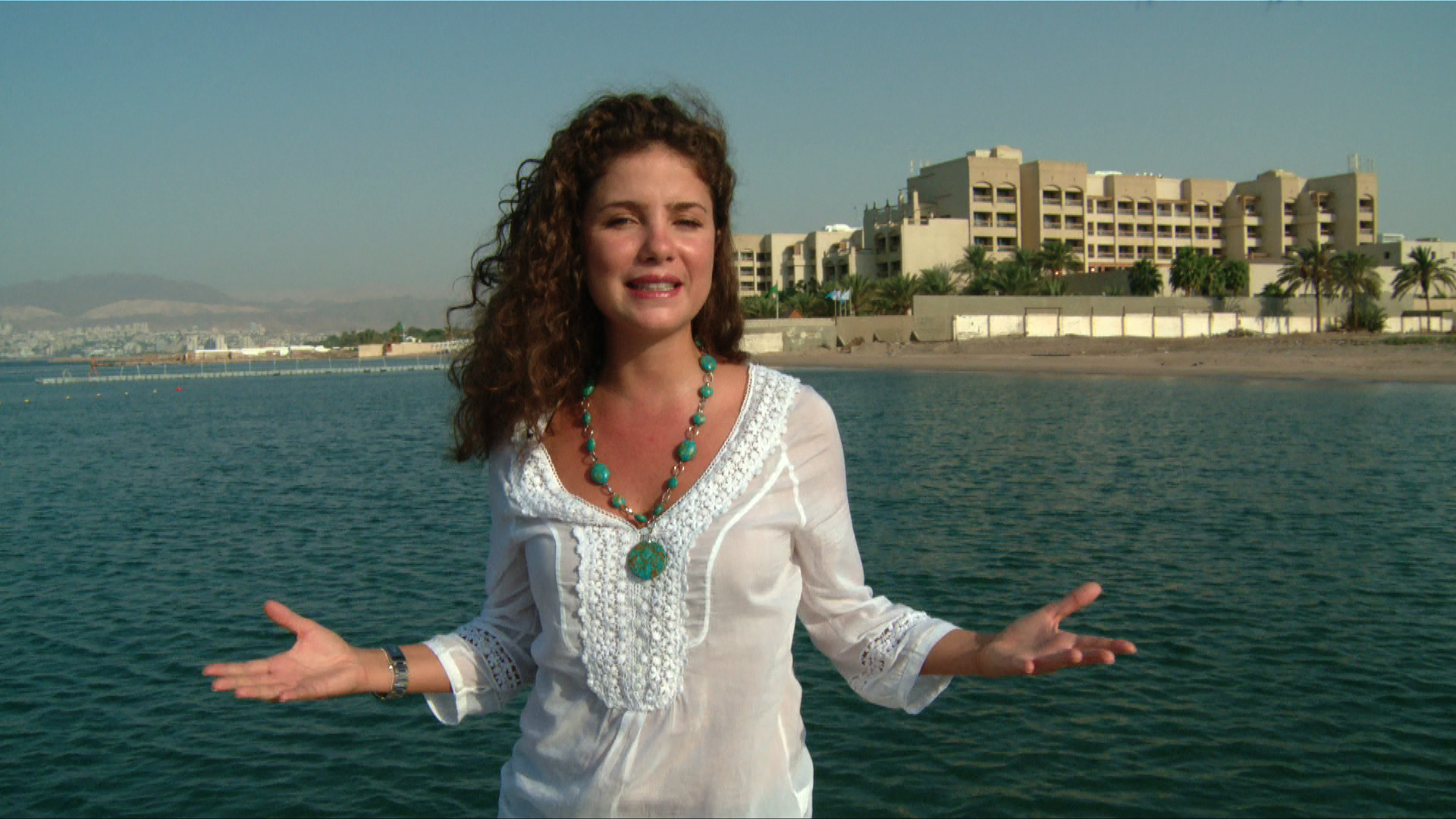 Rima Maktabi on the shores of the Gulf of Aqaba. Jordan, Egypt, Israel and Saudi Arabia all have borders here on the Northern Red Sea.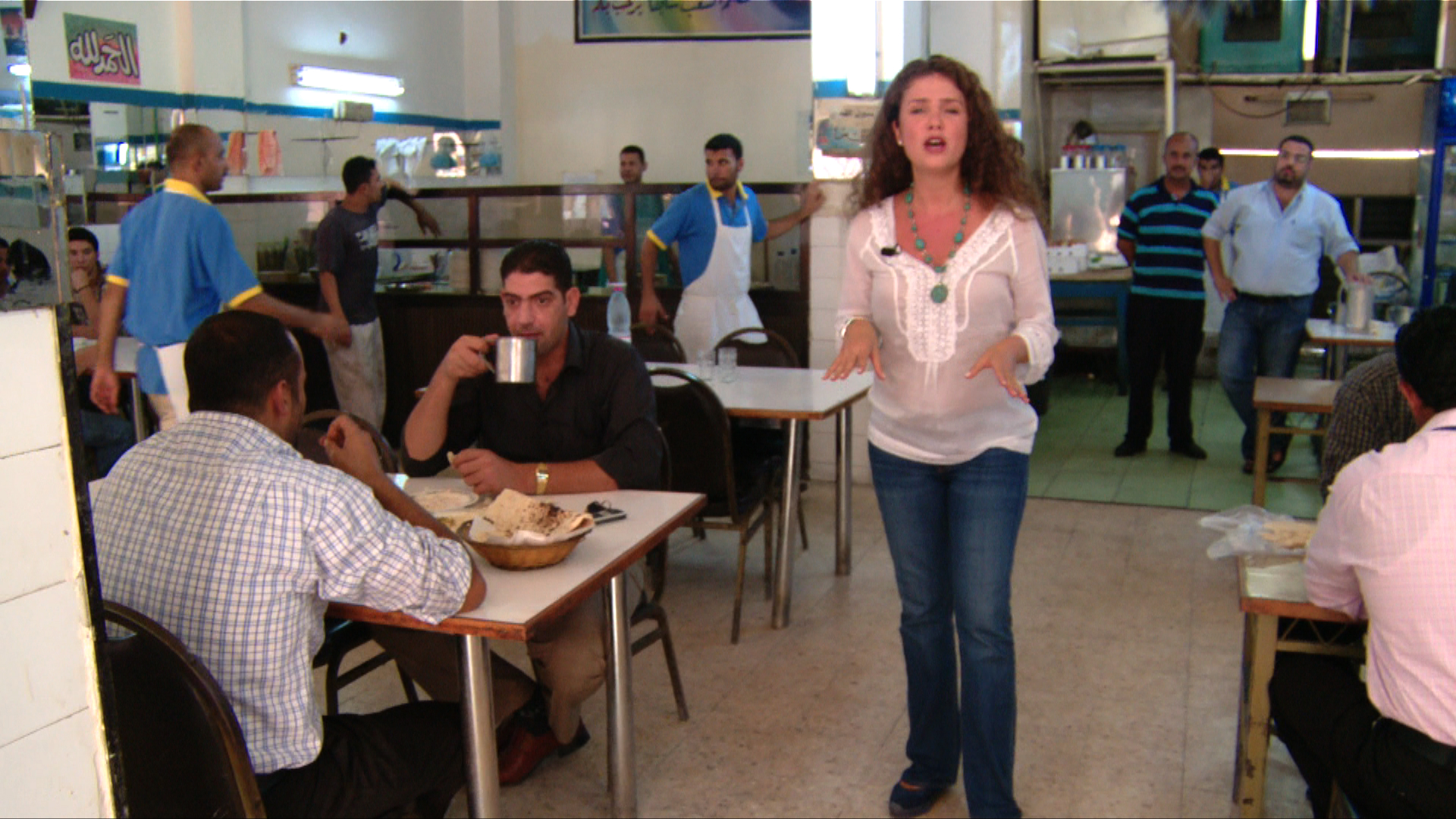 Hajj Khodor, a popular restaurant in Old Aqaba, is over 30 years old and boasts King Abdullah II and his father the late King Hussein as patrons.
After a four-hour drive through the desert from Amman, a tight security checkpoint stands just at the outskirts of Aqaba; then the Red sea welcomes you. The weather was hot and dry, the temperature topping 38 degrees Celsius while clouds covered the sky announcing autumn's arrival. It even rained for few minutes even though Aqaba's inhabitants say they hardly ever see the rain!
At first glance the city looks new, not because of its exceptional architectural style, but rather because of a few construction sites. Taxi drivers, people in the streets and the concierge at the hotel constantly tell you about this new resort and that new compound. Aqaba is small and anything happening in the city could be big for its residents.
But for Haythem, Aqaba is a solid mix of old and new. He is a Jordanian in his early 30s who we chose randomly to accompany us during our third day of filming IME. The producer barely mentioned a request to see Aqaba, and off was Haythem in his car to different locations that show us the sunset, the Israeli city of Eilat (visible across the water), the Egyptian city of Taba on the other side of the Gulf of Aqaba, the mountains and Haj Khodor's restaurants.
As a first time visitor to Aqaba, the geography of the place struck me. I can even say I was perplexed.  That northern tip of the Red Sea is bordered by four countries: Eygpt, Israel, Jordan and Saudi Arabia. The landscape reveals beautiful nature but geopolitics ruins the image. Here, this land is one cause of more than a century's worth of conflict over territories, water, power, religion and existence. I said to myself: how can such a serene land occupy the East and the West with such a long bloody conflict?! But then, why blame the land not the people?
Our scouting for filming sites stretched to Old Aqaba. In a neighborhood that smelled of poverty and history, we drove. There was Hajj Khodor, a simple popular restaurant that reveals the real beat of the city. The owner greets us and says: "Hajj Khodor is my father; he died couple of years ago. The famous old restaurant is just across the street where my father started his business 30 years ago." We were then told that the place would be busiest in the morning.
The next day we arrived at Hajj Khodor's at 11 am. Haythem could not drive us because he had a job interview at Oumnia, a telecommunication company. "I am an engineer not a driver," Haythem told me the day before, "but I cannot find a job, so I try to make a living driving this taxi." So Haythem's father drove us to Hajj Khodor which was like a bee hive. People come in the morning  for breakfast. Hommos, falafel and foul (fava beans) are the main dishes served there. The cashier is Egyptian and "has been with us for more than 30 years," we were told. The hommos is "Beiruti" while the foul is made the Egyptian way.
I am always careful of what I eat. I travel a lot and food can be my enemy at times. So we filmed the restaurant, talked to the owner and lingered around for a while. Then I couldn't resist, I asked for one small plate of foul (fava beans) to share with IME team.
There in Hajj Khodor's restaurant, as well as in Aqaba's streets, everyone asks you tens of questions. Why are you here? What are you doing? Who do you work for? Whether they get answers or not, some pick up the phone and tell others who and what they have seen. Then come Jordanian intelligence officers, a few hours later come the police and so on so forth.
Security is a major concern here in Aqaba. Israel is just next door. So close that once in 1986, an Air France plane bound for Eliat mistakenly landed in Aqaba, Jordan!
Away from security concerns, it is unlikely that you could walk into any place in Jordan and not see pictures of the ruler. Photos of the Jordanian King Abduallah II and his son, the Crown Prince are everywhere. Even at this popular busy restaurant, big pictures of the late King Hussein, his son Abduallah and the 16-year-old Prince Hussein are the first things you see as you enter Hajj Khodor. "Even the king eats here," the owner proudly tells IME team.
Posted by: IME Producer
Filed under: CNN Coverage •Jordan