From Arwa Damon, CNN
Beirut, Lebanon (CNN) - Iranian President Mahmoud Ahmadinejad arrived in Beirut for his first state visit to Lebanon Wednesday.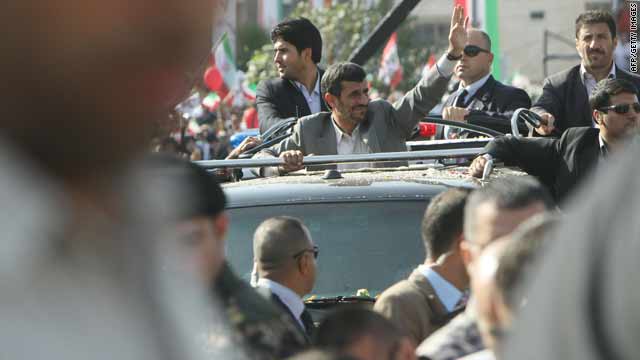 Iran's President Mahmoud Ahmadinejad crosses Beirut airport highway on his first visit to the country on Wednesday
Ahmadinejad was greeted at the airport by members of parliament, government officials and Hezbollah political leaders. The streets near the airport were packed with people in a festive mood carrying Iranian and Lebanese flags.
The Iranian leader met Lebanese President Michel Suleiman at the Presidential Palace here and was scheduled to meet other leaders as well as leaders of Hezbollah's resistance movement.
The United States considers Hezbollah, which has close ties to Iran and Syria, to be a terrorist organization. The Shiite group is a political party and a major provider of social services in Lebanon, but it also operates a militant wing.
Hezbollah has been linked to numerous terrorist attacks against American, Israeli and other Western targets. Some Muslims see it as a heroic organization, successful in its stated objective of driving Israeli forces from Lebanon.
U.S. Secretary of State Hillary Clinton has expressed concern to Suleiman about Ahmadinejad's Lebanon visit, according to a State Department spokesman.
But in southern Lebanon many were happy that Ahmadinejad was coming. Read full article...
Posted by: IME Producer
Filed under: Iran •Lebanon