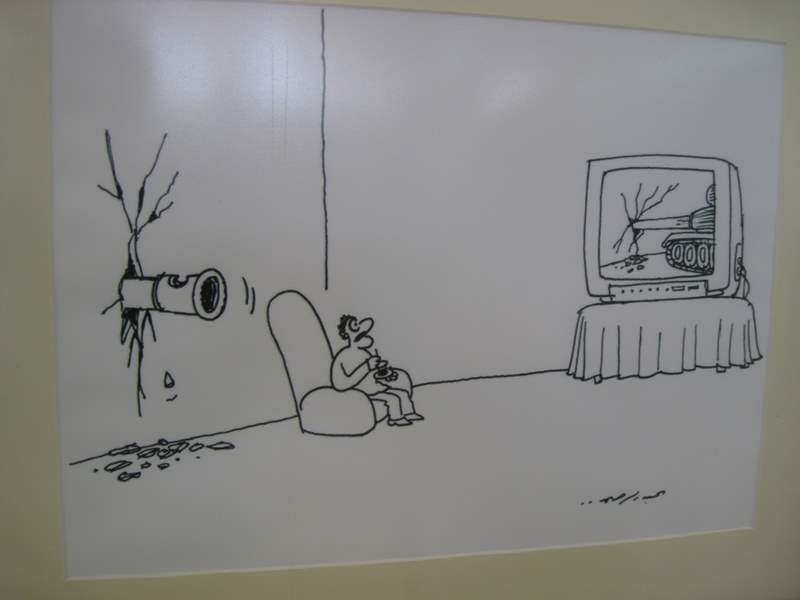 Iraqi political cartoon (CNN/Mohammed Tawfeeq)
When I first met Abdulrahim Yasser, one of Iraq's most influential and respected caricature artists, he told me why he decided to help organize and participate in an exhibition highlighting some of Iraq's best political cartoons and cartoonists.
"I'm trying with all my might to encourage a discussion," said Yasser at the event's opening at a Baghdad gallery.  "This exhibition is a discussion with others, it's a discussion with the Republic, a discussion with those paying attention."
The show is the biggest one of its kind ever to have been put on in Iraq, and many spectators excitedly explained to me why it was so significant.
"This event is important because it talks about Iraq," explained Ali Adel.  "About things in Iraq and issues facing Iraq."
Indeed, the artwork lining the walls depicts so much of what Iraq has been grappling with – everything from the futility of politics to the absurdity of war.  Many attendees continued to remind me how a showcase like this wouldn't have been possible during Saddam Hussein's rule, that the existence of such an exhibit is a testament to the freedom of expression that they told me now exists in this country.
Sure enough, a quick look around the room had me spotting satirical illustrations of some of Iraq's most powerful politicians, like former Prime Minister Ayad Allawi and President Jalal Talabani.  But other power brokers were noticeably absent – like Iraqi Prime Minster Nuri Al-Maliki.  Also missing from the lineup of the lampooned?  Iraq's leading religious figures – glaring omissions that caused some to question just how much freedom the press really has in Iraq.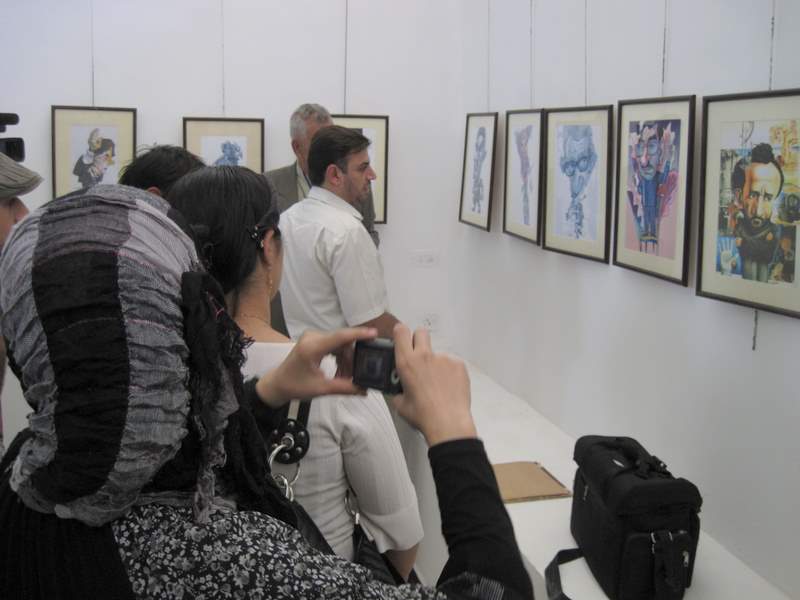 Spectators view works from Iraq's largest exhibition of political cartoons (CNN/Mohammed Tawfeeq)
Yasser told me that despite the progress he and his colleagues have made, taboos still exist in his country.  "You aren't allowed to delve into many issues – not because the constitution doesn't allow you to do so, but because this country isn't finished being built and is still not able to protect all these freedoms."
I found it an interesting twist to the proceedings.  Some of the same artists who used to be afraid they'd be persecuted because Iraq's government was too strong are now fearful they won't be protected because the country's government is too weak.  That's just the kind of subject matter that would be perfect for one of them to tackle in their next political cartoon.
Posted by: CNN Correspondent, Mohammed Jamjoom
Filed under: General •Iraq