London, England (CNN) - Classified military documents published on the WikiLeaks site increase the civilian death toll of the Iraq war by 15,000, anti-war activists said at a news conference Saturday.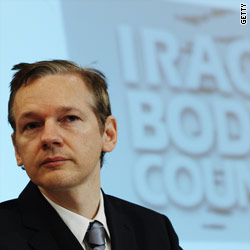 WikiLeaks founder Julian Assange spoke at a press conference in London Saturday
"We have seen that there are approximately 15,000 never previously documented or known cases of civilians who have been killed by violence in Iraq," WikiLeaks editor-in-chief Julian Assange said.
Those cases raise the civilian death toll in Iraq to 122,000, said Iraq Body Count, an-anti-war group.
Assange and others appeared at a news conference on Saturday in London, England, to discuss the release of nearly 400,000 classified military documents from the Iraq war by his whistle-blower website WikiLeaks.
Assange said the massive leak aims to reveal hidden truths about the Iraq war.
"The attack on the truth by war begins long before war starts and continues long after a war ends," Assange said.
"In our release of these 400,000 documents about the Iraq war, the intimate detail of that war from the U.S. perspective, we hope to correct some of that attack on the truth that occurred before the war, during the war and which has continued on since the war officially concluded."
CNN was offered access to the documents in advance of the release but declined because of conditions that were attached to accepting the material. The New York Times and The Guardian, the British newspaper, were among a handful of organizations provided early access to the papers. Read full story
Posted by: IME Producer
Filed under: Human Rights •Iraq •U.S.