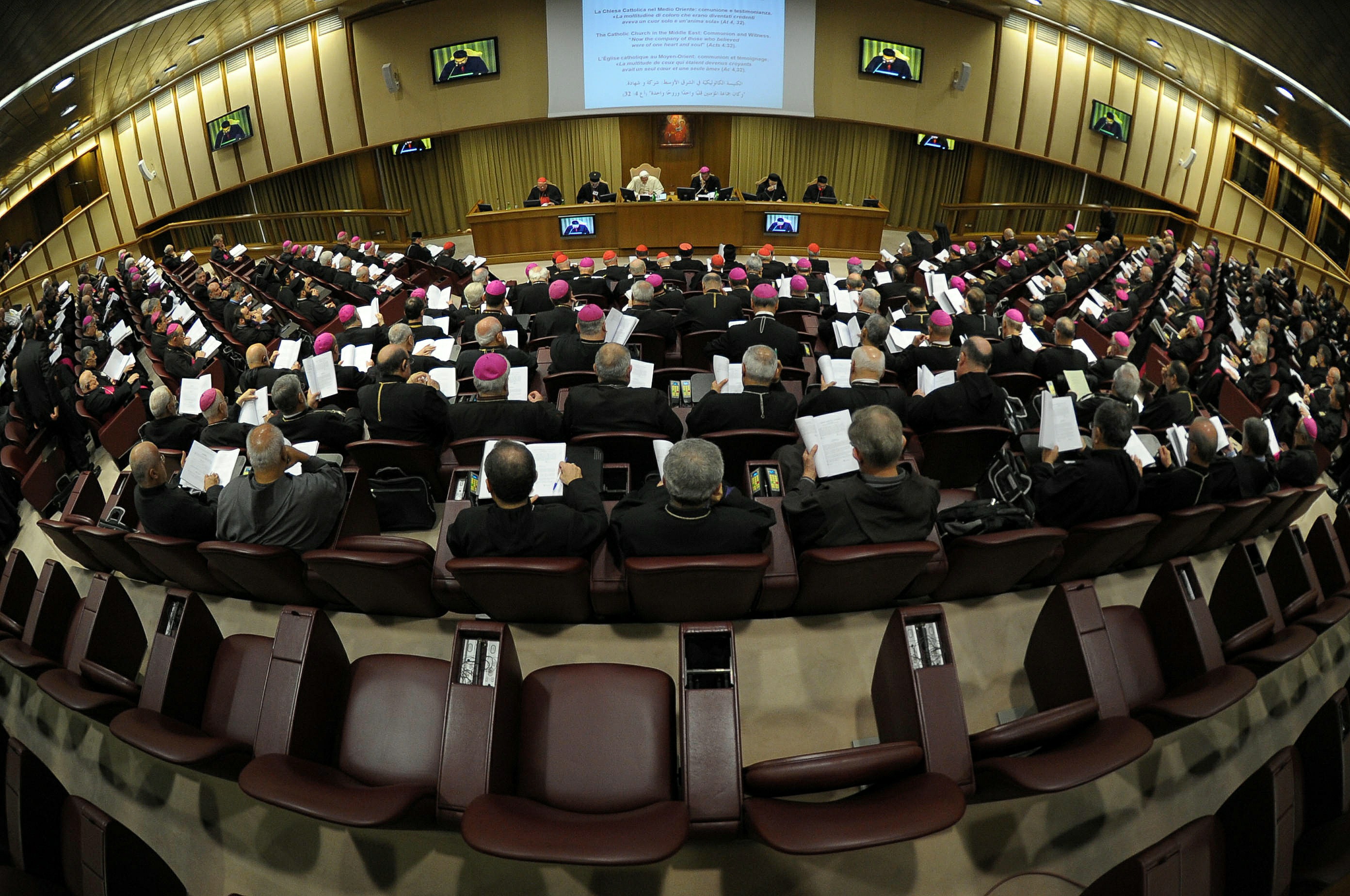 Pope Benedict XVI presides over the last day of the synod of bishops from the Middle East at the Vatican(OSSERVATORE ROMANO/AFP/Getty Images).
A two-week conference of Catholic bishops to discuss the situation of Christians in the Middle East has stirred some controversy.
At the conclusion of the Vatican gathering, called a synod in church terminology,  bishops released a communique Saturday that among other things called for the international community "to put an end to the occupation"  and an exhortation that the bible should not be used by Israel as a pretext to justify injustices.
The communique and remarks in a closing press conference by Archbishop Cyril Salim Bustros brought charges of "libel" from Israel's deputy foreign minister Danny Ayalaon on Sunday and a spokesman for the Israeli foreign ministry, Yigal Palmor, said the bishops were "committing a sin towards the truth"  by ignoring the fact  that "Israel is the one  country in the region that is welcoming to Christians"
Palmor cited statistics showing the Christian population in Israel had been growing steadily throughout the years due to natural growth and immigration. He said that Christians face pressure in many countries in the Middle East because of Islamic law and  Muslim extremism, but that Israel was not one of them.
Rabbi David Rosen who serves as the director of interreligious affairs for the American Jewish committee and spoke before the synod as special guest earlier in the month called the omissions of  the conference's  final statement "appalling".
"...the bishops did not have the courage to address challenges of intolerance and extremism in the Muslim countries in which they reside, and rather chose to make the Israeli-Palestinian conflict their first focus" Rosen said in a statement.
For its part the Palestinian Authority welcomed the conclusions from the Vatican gathering.
"Israel cannot use the biblical concept of a promised land or chosen people to justify new settlements in Jerusalem or Israeli territorial claims," Saeb Erakat, a spokesman for Palestinian Authority President Mahmoud Abbas and a chief Palestinian negotiator, said in a statement Sunday.
Erakat said the synod sent "a clear a message to the government of Israel that it may not claim that Jerusalem is an exclusively Israeli city."
"(In) coming weeks we will engage in discussions with the Vatican on ways to further consolidate our fantastic relations," Erakat said. "
Posted by: Kevin Flower
Filed under: Christianity •Islam •Israel •Judaism •Palestinians •Religion