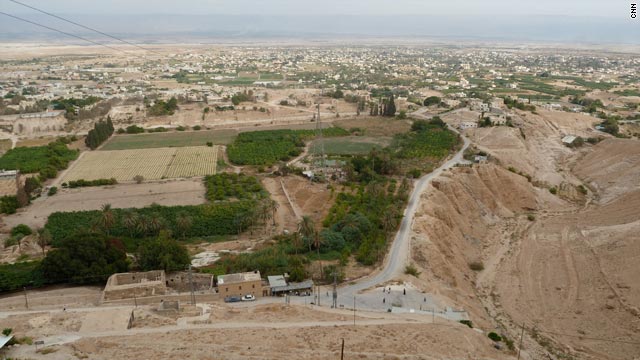 A view of the West Bank city of Jericho.
Editor's note: For more on this story tune in to the next Inside the Middle East show on Wednesday 3 November. Go to the showpage for more detailed showtimes.
Everyone loves a good birthday party until they reach an age when they'd rather forget.   For the West Bank city of Jericho it's a birthday to be proud of, a milestone no other city in the world has celebrated - 10,000 years .
It's believed to be the longest continually inhabited place on earth and it's one of the lowest on earth, skirted by the Dead Sea and the Jordan Valley.
A treat for any historian no matter how amateur, the city boasts one of the first examples of a man-made stone tower …  discovered by a British archeologist in the 1950s, dating back to around 8000 B.C., although its use - whether for religion or security - is unknown.
An eight-meter tower with the world's oldest known staircase descends from the top - 22 steep, well-worn steps to a tunnel below.
A cable car, opened in 1999, makes quick work of the journey to the summit of the Mount of Temptation, where Jesus is said to have spent 40 days and nights fasting and meditating, resisting the temptations of Satan.
Jericho is already popular for a West Bank city.  The tourism ministry tells CNN one million foreign tourists come every year, as well as 500,000 local visitors.  Only Bethlehem attracts more in the West Bank.
But by celebrating Jericho's incredible birthday, Palestinian officials are hoping to attract many more.  Palestinian Prime Minister Salam Fayyad tells us, "We've been around a long time and we intend to do the best we can to stick around until we can live as free people in a country of our own."
Mr Fayyad was front and center at the birthday celebrations, visiting one of the largest mosaics in the Middle East, unveiled for the occasion.  A 900-square-meter mosaic that is 1,200 years old, and covered by sand and canvas since the 1930s to protect it.
The PM opened a new road named after the late Mahmoud Darwish - considered the Palestinian national poet.  And Mr Fayyad was the first to use a brand new postage stamp designed specifically for Jericho 10,000.
A marathon, open air concert and many other projects contributed to the occasion, although for such a momentous  age, few tourists came.
Khloud Daibes, Palestinian tourism minister said, "Palestine as a destination is a very challenging one … we're using this occasion to draw attention to the fact it is an exciting destination."
Posted by: CNN Correspondent, Paula Hancocks
Filed under: Archaeology •Culture •Inside The Middle East •Jerusalem •Palestinians •West Bank