From CNN's Mohammed Jamjoom
Upon arriving at the Yemen Music House, I was completely surprised. From pianos to guitars, mixing boards to sound booths, everything's available to the aspiring Yemeni musicians who come to this music school and studio. In this deeply conservative country, it's a haven – not only can women and men sit together here, they can play together too.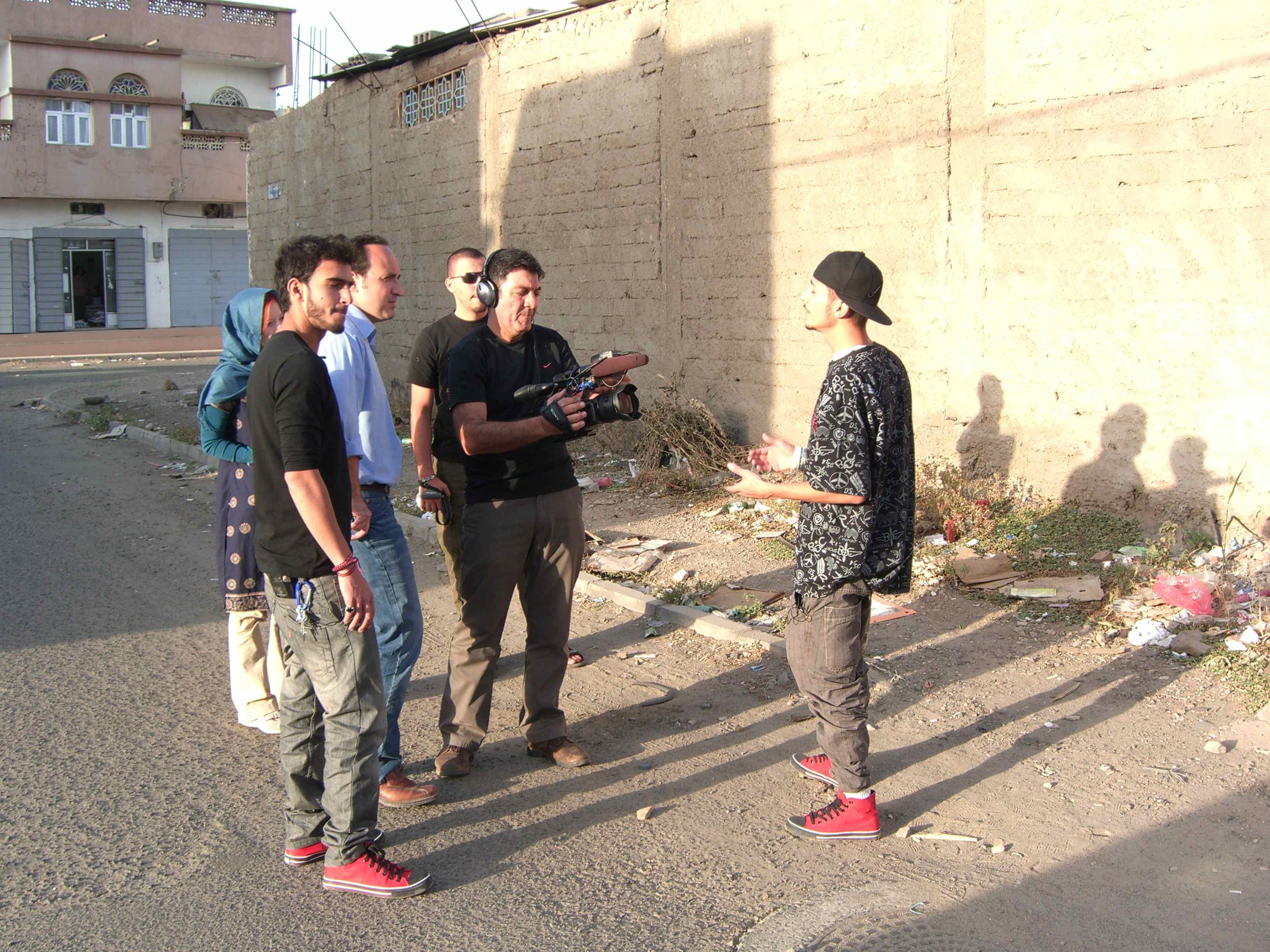 Photo CNN/Dane Kenny. Mohammed Jamjoom, producer Gena Somra and cameraman Farhad Shadravan interviewing rapper/producer Nadeem. Also in the picture is rapper Ziad.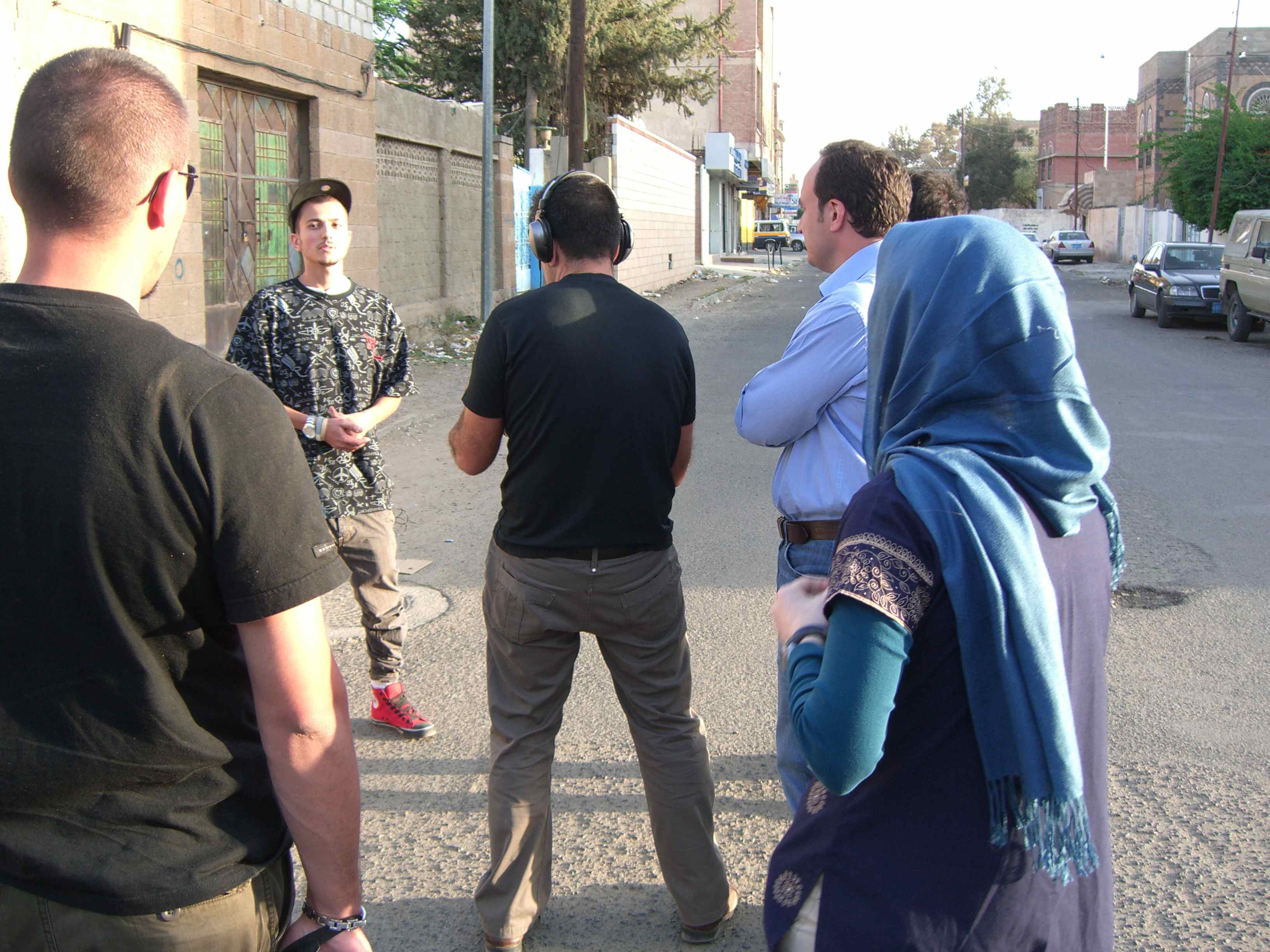 Photo CNN/Dane Kenny. Nadeem, who is half-Yemeni and half-Russian, says there's a misconception among Yemenis that hip hop is only drugs, naked women and saggy pants.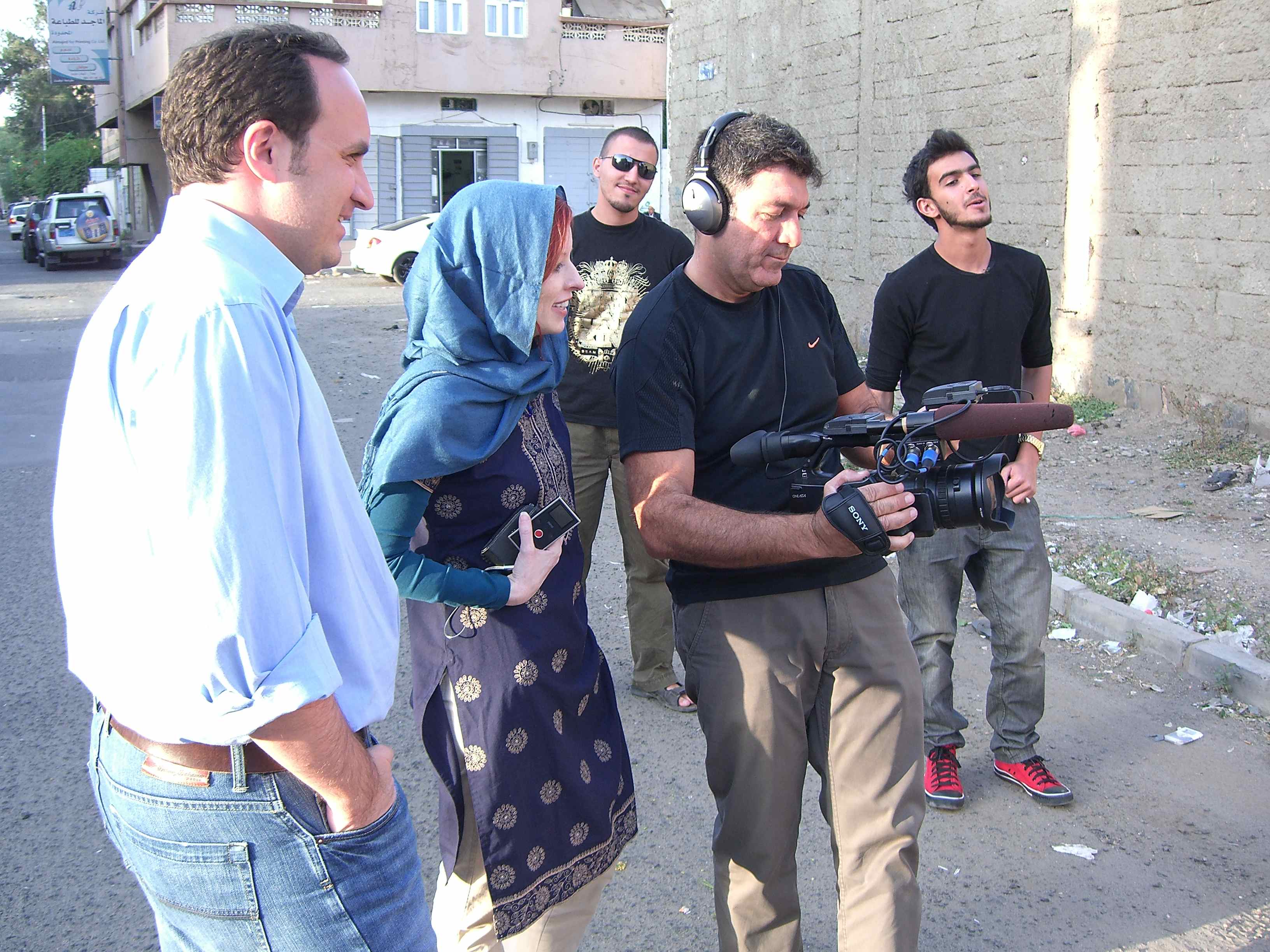 Photo CNN/Dane Kenny. Mohammed, Farhad and Gena shooting outside the Yemen Music House that houses a recording studio.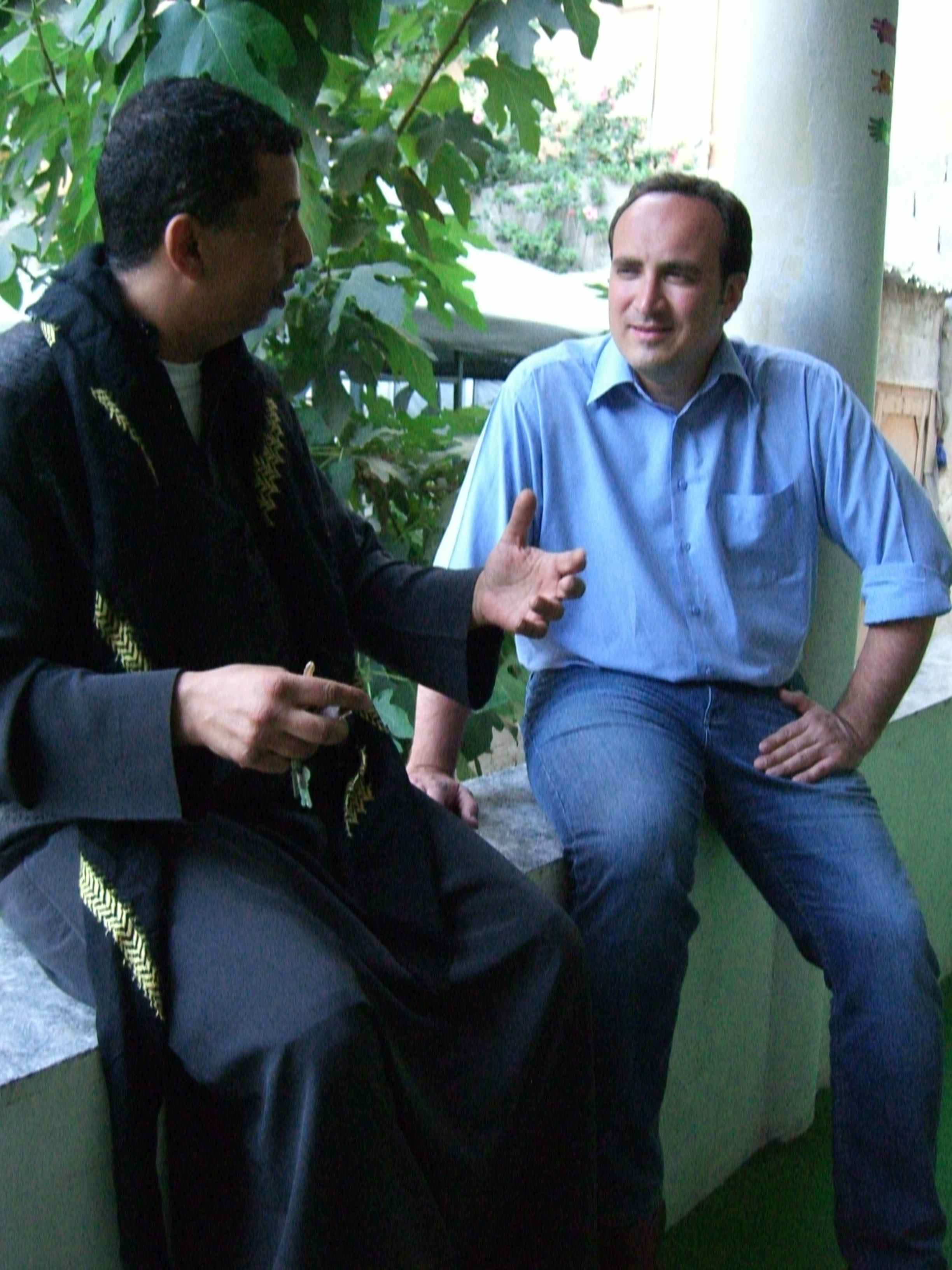 Photo CNN/Dane Kenny. Mohammed Jamjoom talking to rapper AJ, the self-styled Godfather of Yemeni Hip Hop.
And then there was the rapper. The one who had what I can only describe as Sana'a Swagger.
AJ is considered Yemen's godfather of rap. This Yemeni-American fell in love with and started performing hip hop while growing up in the US. When he moved back to Yemen, he wanted, more than anything, to start a movement. But it wasn't easy.
"When I first came here," AJ told me, "it was kind of awkward, cause I see they have 2Pac in these stores and they have all these people doing gangsta rap and cursing and they're selling it. But here I am and I come and all of a sudden they want to censor what I have to say. You know, but I know that this is just part of Yemen. TIY – This Is Yemen, you know, you have to roll with the punches."
AJ encountered many Yemenis who thought only negatively about hip hop. The complaints he heard most often?
"All their sagging with their jeans, it's half way down their butt," AJ said to me in a voice mimicking his early detractors.
But there was more: "You know they're gonna have shows with girls and guys and they're gonna do drugs and drink and they're gonna curse."
AJ was getting tired of trying to counter the misconceptions when he first discovered how to win over locals. Utilizing traditional Yemeni melodies and instruments in his songs is what did it.
"I had a lot of success with incorporating mismar (a wind instrument) in one of my first songs that was very popular," said AJ, "because I figured, the mismar is used at weddings and celebrations, and it's sort of like the pied piper. Once you hear it, you have to come out and see what's going on … And so, I figured, if that works, let me try it with the oud, let me try it with the flute … So far, I've been very fortunate."
Then he realized he'd have to refine his message, and more specifically, his lyrics. According to AJ, Yemeni audiences pay attention to more than just the beat, they scrutinize the words. "They're really listening," AJ told me, "So if you're saying something, you have to really say something."
AJ started writing and rapping about more homegrown issues, like chewing qat and combating terrorism. And in a country with a growing threat from Al-Qaeda and a staggering amount of poverty, he started to feel a responsibility to the next generation.
"I figure 65% of Yemen is under 30," AJ explained to me, "A lot of the bad things that go on, they use people that are young, insecure, uneducated, and they'll fill their heads with a lot of nonsense, and some poor kid is out there blowing himself up. Why? Because he doesn't have anywhere to turn – no one else to turn to."
Which is why AJ considers the Yemen Music House so important – more than a home base for his country's aspiring rappers, it's a place where he can mentor, they can learn – and all of them can rap.
Tune into Inside the Middle East premiering tomorrow to watch Mohammed's full story.
Posted by: IME Producer, Mohammed Jamjoom
Filed under: Culture •Yemen

After driving several hours from Abu Dhabi, we arrived at Qasr al Sarab, a luxury resort in the middle of the world's largest uninterrupted sand desert. There is little to see between the two destinations, save a large garbage incinerator for the capitol and the odd grouping of camels. We credited our hotel arrival to a man at a road-side stop along the way. He filled our depleted tank with gas poured in from an improvised funnel – high tech for one of the world's oil capitals.
Qasr al Sarab bills itself as the ultimate Arabian getaway in the Liwa Desert. The year-old hotel is remote, surrounded by nothing but sand and lots of it. Our room, one of just more than 200, ticked all the right boxes: big bed, excellent shower pressure, a functioning air conditioning and the bonus espresso machine. But what really sells the site is the view.
Dunes extend as far as the eye can see and much higher than I was willing to trek. After a mere 10 minute hike up one of the larger ones, I was out of breath and sweaty. I forgot my iPod and the Lawrence of Arabia soundtrack to motivate me. So I paused to thank the gods that I was born in modern times and to marvel at the wonder of nature.

As the sun sets, the golden sand reflects and absorbs its lights. Dark red and black earth dots the terrain and wispy clouds idle in the blue sky. Breathtaking. A sight made all the better as I know I can hike back to the hotel and eat a dinner that someone else has prepared instead of setting up camp, fending off the harsh conditions of the desert and wondering how far until the next water supply. For this luxury, I am willing to pay five-star rates.
Posted by: CNN Producer, Jenifer Fenton
Filed under: Abu Dhabi •UAE
Two teenage women in Bahrain planning to undergo sex change operations are set to launch legal bids to have their status recognized as men, reported The Gulf Daily News.
The newspaper conducted an interview with Fawzia Janahi, reported to be the only lawyer in the Arab world specializing in transsexual cases, who said the two teens approached her for legal advice.
Janahi won two similar cases in 2005 and 2008; following these successes she says she was approached by a flood of people in the Gulf complaining of being in the wrong body, according to the paper.
Transsexualism remains an incredibly sensitive and taboo subject in most of the Middle East.
Posted by: IME Producer
Filed under: Bahrain