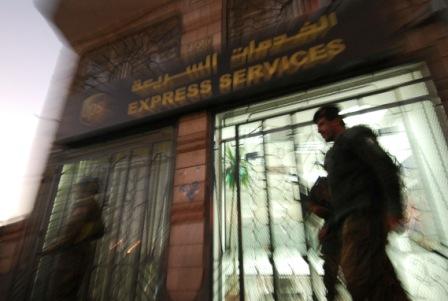 Yemeni security are seen outside a branch of the US package delivery firm UPS in Sanaa (Getty Images)
Editor's Note:  Ben Wedeman has lived and worked in the Middle East for more than 30 years, and has reported from Yemen.
Yemen is "a hotbed of al Qaeda activity," a "failed state," "the next Afghanistan." Or so we are being told.
Trying to make sense of the uproar over Yemen stirred up in late October by the handful of alleged bombs shipped from Yemen and bound for the United States, I sought the wisdom of people who have been to Yemen, lived there, and speak the language.
One of them is Sheila Carapico, a Yemen expert teaching at the American University in Cairo.
"Some of the intelligence from inside the government and think tanks and other sources in Washington on Yemen is so focused on this AQAP (al Qaeda in the Arabian Peninsula) entity that they just neglect to get a basic grasp on Yemeni geography and history," she told me.
AQAP is believed to be behind the package bombs, as well as the accused bomber Umar Farouk AbdulMutallab, who U.S. authorities say tried to blow up a passenger jetliner with an explosive partially sewn into his underwear. He's facing six charges, including attempted use of a weapon of mass destruction, and has pleaded not guilty to charges of trying to blow up the plane.
AQAP's so-called spiritual leader, US-born Anwar Al-Awlaqi, is said to have been the inspiration for Major Nidal Hassan, accused of going on a shooting rampage in Fort Hood, Texas, a year ago, in which 13 people were killed.
AQAP may be on the lips of the growing army of terrorism "experts" around the world, but it remains, she said, something of an unknown quantity in the Arab world. "Americans recognize the notion of AQAP and think it's a huge threat. For most Arabs, the acronym makes no sense and the organization, if it exists at all, is a sort of shadowy, fluctuating, almost viscous entity."
Indeed, I suspect if you were to go out on the streets of Cairo and ask one thousand people if they knew who Anwar al-Awlaqi is, you'd probably be met by blank stares. It may come as a surprise to some, but the poster demons in the war on terror are largely unknown in this part of the world.
And Carapico isn't impressed by the threat posed by AQAP: "At this point we have a series of failed, low-tech operations," she said. "The threat is so asymmetric. It's so, at this point, I hate to say, pathetic. I think there is room to wonder if we are using disproportionate resources to combat a fairly small and relatively toothless enemy."
A view not shared by the U.S. government, obviously. President Barack Obama has pledged to support the efforts of the Yemeni government to crack down on AQAP. The US may provide as much as $250 million dollars in increased security assistance to Yemen.
But Carapico says AQAP is way down on the list of domestic foes challenging the 32-year-old regime of Yemeni President Ali Abdullah Saleh.
In the north his army is battling a persistent tribal rebellion, although a tenuous truce is holding for now. In the south of the country a secessionist movement is gaining steady ground. It's not clear what link the secessionists have to AQAP. Yemen is also in the throes of an economic meltdown caused by the collapse in world oil prices, and a growing water shortage that threatens to cripple the country.
Growing American military assistance to the increasingly unpopular Yemeni regime could well be diverted to other battles. And that would be a godsend to groups capitalizing on anti-western sentiment.
"If your response to incidents like this is to treat them like existential threats, and take extraordinary measures, that's exactly what a terrorist wants you to do," noted Ezzidine Choukri-Fishere, a former Egyptian diplomat. "So the choice is yours: Do you want to play this game, or do you want to break the cycle and do something different?"
Doing something different, according to Choukri-Fishere, means a complete revamping of US Mideast policy: Shifting away from the traditionally ironclad embrace of Israel, finding common cause with the people of the region, backing away from unpopular, dictatorial regimes.
Otherwise, a single-minded focus on terrorism, to the exclusion of all else, could prove costly. Anti-American sentiment is on the rise, he said, "and I'm afraid that United States, as many superpowers before [it], doesn't see the earth-shaking under its feet until it's too late."
Posted by: Ben Wedeman, CNN Correspondent
Filed under: Obama •U.S. •Yemen