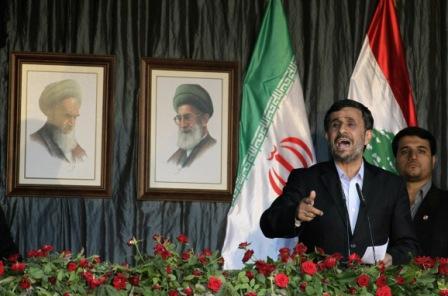 President Mahmoud Ahmadinejad addresses a mass rally in the southern Lebanese border town of Bint Jbeil (Getty Images)
Fresh off the success of his controversial visit to Lebanon, it appears that Iranian president Mahmoud Ahmadinejad will now be weighing whether or not to make another diplomatic visit – this time to the Gaza Strip.
According to semi-official Iranian news agency Fars,  the Hamas government in Gaza has extended an official invitation to the Iranian leader to visit the coastal strip in order to "boost resistance moral" of the territories 1.5 million Palestinian residents.
Hamas official Ahmed Yousef told Fars  "We invite (President) Ahmadinejad to pay a visit to the Gaza Strip, and we are confident that the visit will have extraordinary importance"
Yousef  told Fars he hoped that a trip by the Iranian leader would inspire Gazans in the same way it did for Lebanese.
Lacking the same enthusiasm would be Israel which has long accused the Iranian regime of providing weapons and cash to Hamas which is considered a terrorist organization by the United States and the European Union.
"Perhaps he could be smuggled in through the tunnels with weapons" deadpanned Israeli foreign ministry spokesman Yigal Palmor who said he did not expect an Ahmadinejad visit to take place, despite the invitation.
Israel and Egypt control the land, sea and air approaches to the territory and it would be unlikely that the Egyptian government of Hosni Mubarak , which has not enjoyed the friendliest of relations with Iran, would allow such a visit.
For his part Palestinian Authority President Mahmoud Abbas, who represents a rival Palestinian political faction,  will not be supporting a visit either.  He recently told CNN that both Iran and Hamas were impeding the peace talks with Israel.
"Hamas and whoever is standing behind Hamas – meaning Iran – is slowing the peace process. Yes, yes, Iran is pressuring Hamas not to be part of any agreement, so that they can use Hamas as a negotiations card in their talks with the international community and especially with the United States."
Posted by: Kevin Flower
Filed under: Gaza •Hamas •Hezbollah •Iran •Lebanon •Palestinians •West Bank