Saudi Arabia's King Abdullah has arrived in the United States for medical treatment, the State Department said.
"We hope for his speedy recovery," the State Department said in a message from its official Twitter account late Monday.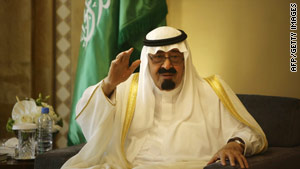 King Abdullah ruled Saudi Arabia since 2005.
The king left Saudi Arabia earlier Monday for treatment of a herniated spinal disc and a blood clot that was causing him back pain, state media said.
Saudi dignitaries met him when he arrived at New York's John F. Kennedy International Airport, the state-run Saudi Press Agency said.
The agency's report did not specify which hospital would be providing treatment to the ruler.
"The medical team recommended that he leaves for the U.S. to visit a spine-specialized medical center in order to complete medical examinations and for follow-up treatment," Health Minister Abdullah al-Rabeeah said during an interview Sunday with Saudi state television. "But I assure everyone that he is in a stable condition, and that he is enjoying health and well-being, and God willing, he will be back safe and sound to lead this proud nation."Read more..
Posted by: IME Producer
Filed under: Saudi Arabia •U.S.