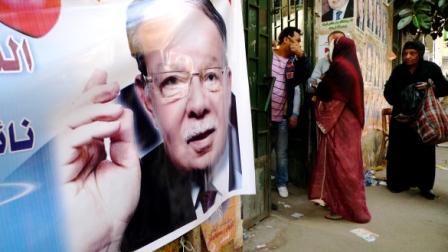 Outisde a voting station in the Sayida Zainab area of Cairo, An NDP party candidate's poster dominates (Mary Rogers/CNN)
We had to be patient to get pictures of people casting their ballots at the Yahya Mashhad School for Languages in the gritty northern Cairo district of Shubra Al-Khaima.
One voter would enter the room every ten minutes or so, slip behind a black curtain to fill out their ballot, drop it in a battered wooden box, sign the register, and then dip their finger in pink ink. After another long wait, the next voter entered.
Outside, earnest supporters of the Muslim Brotherhood, Egypt's largest opposition bloc, complained that their appointed observers had been denied the right to monitor the voting.
"There is no way we can ensure these elections were fair," Brotherhood supporter Mustafa told me.
Newspapers in Cairo Monday morning were full of reports of vote rigging and violence around the country.
According to the official Higher Elections Committee, turnout in Sunday¹s parliamentary elections was 25 percent. Independent observers say it was probably not even half that.
Initial results indicate the ruling National Democratic Party has cleaned up and that the Brotherhood has taken a serious beating. A round of run-off elections is scheduled for Dec. 5.
It's a dramatic turnaround from late 2005, when the Brotherhood surprised even many Egyptians by winning 88 seats, grabbing around 20 percent in the People¹s Assembly.
But that was then. In 2005 the administration of George W. Bush was at the height of its push for democratic reform in the Arab world, and President Mubarak¹s authoritarian government was squarely in the American cross hairs.
Feeling the heat from Washington, in 2005 Mubarak's government let the Brotherhood make those stunning electoral gains. Just a few months later, in January 2006, the hard-line Islamic group Hamas roundly defeated the US-backed Fatah movement in elections in the West Bank and Gaza.
Suddenly the US enthusiasm for Arab democracy went cold, replaced by the traditional mantra so beloved of dictatorships everywhere: stability.
The shift left many Egyptians hopeful of change bitter and disappointed.
"Surprisingly, President Bush, who was not at all popular with the Egyptian people, did apply a lot of pressure on our government to take serious steps toward democracy," says pro-democracy activist Ghada Shahbandar. "President Obama, who Egyptians cheered for and were very hopeful about, hasn¹t shown the same interest in internal politics and in democracy in Egypt."
The Brotherhood, Shahbandar says, "is a useful boogey man to the international community and to the Egyptian left, the different liberal parties, and the business community. The message was very clear: You either get the National Democratic Party or these Islamists."
The Brotherhood, the boogey man, served its purpose, and now, in 2010, the ruling party appears eager to go back to business-as-usual.
There¹s just one problem. The experience of the last five years, and tectonic changes in Egyptian society, may make that impossible.
During this election cyberspace was abuzz with Egyptians - secular, religious, nationalist, others just cynical - who on Twitter and Facebook disseminated scathing commentary and second-by-second reports of irregularities, violence AND intimidation throughout the voting day and well into the night. Politically aware Egyptians have taken to social media like fish to water.
The group Reporters Without Borders has branded Egypt one of the "enemies of the internet" for jailing outspoken bloggers, but that hasn't stopped many others from venting their anger on the web.
It's a mistake to overestimate the ability of Facebook and Twitter to shake a regime as solidly entrenched as Egypt's, but one shouldn't minimize the gradual, corrosive effect of the steady drip of tiny messages of anger, disaffection and frustration that cross social media sites.
This drip-drip-drip spills into the discourse of a much wider audience that increasingly seems less hesitant to hold its tongue.
Outside another school in Shubra Al-Khaima where voting was taking place Sunday, I found myself in the middle of a raging debate between supporters of an independent, non-Brotherhood candidate and backers of the ruling party.
Imad, a university student, demanded, "Why do I have to have people imposed on me? I want to be able to choose who is right for me."
Accusations of vote-buying, ballot stuffing, intimidation and violence flew all around me. Voices were raised, everyone was gesticulating wildly to make their point.
In the past I often found Egyptians hesitant to wash their dirty laundry in front of foreign journalists, or if they did, some self-appointed guardian of Egypt¹s dignity would come along and drive us away. This time, the crowd forgot I was even there.
It may sound like a cliché, but change is afoot in Egypt.
This is a regime in its twilight. President Mubarak has ruled Egypt without a real challenger since October 1981. He is 82 now and earlier this year underwent gall bladder surgery. Despite his black hair, the only president most Egyptians have ever known is starting to show his age, and people are beginning to ponder their future in a post-Mubarak Egypt.
In 2005, at the height of what became known as the "Arab Spring," I interviewed George Ishaq, leader of the Kifaya movement. Kifaya is Egyptian Arabic slang for "Enough" and it was the first group that openly called for an end to Mubarak¹s rule.
"The door is open," he said, leaning forward for dramatic effect. "And nobody can close it again. We will go through this door and we will struggle until the end, to be a democratic country. We will insist on it."
Don't let the results of Sunday's vote fool you. That door can't be closed again.
Posted by: Ben Wedeman, CNN Correspondent
Filed under: Egypt