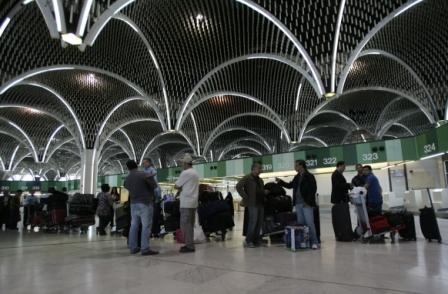 Passengers wait at ticket counter at Baghdad International Airport (Getty Images )
It's really impressive to look up at the flight board at Baghdad International Airport these days – Abu Dhabi, Amman, Beirut, Istanbul, Cairo, Tehran are a few of the available daily trips.
I remember the days when commercial flights were limited to the one or two Royal Jordanian ones that were usually overbooked and getting out on one of those was always an "inshalla" – "God willing" scenario.
I also remember the days when you would glance around the airport and your average passenger would be the tattooed private security guy , the journalist, or the Iraqi member of parliament who would spend more time in Amman than in Baghdad.
Today, it was a handful of the usual suspects and a different crowd -  mostly Iraqi refugees, families who have packed their lives into one suitcase per person and set off on their journey to new homes.
As I queued up to get a coffee, a young Iraqi man approached me – I had met him a few years ago through work, he is now a refugee.
He asked me if I was going to the US – he was, along with his family.
Where are you going I asked – "Indiana" he said with a bit of a confused look, like he was not sure if I had heard of it. I told him I had visited Indiana a few years ago; "is it nice?" he asked.. I said yes, but very cold in the winter, we both laughed– Iraqis are more immune to the scorching heat of their country, not the harsh winters of the Midwest.
Why are you leaving I asked – he smiled and said "why would I stay? ...What should I stay for?" a familiar answer I have been hearing a lot lately from Iraqi colleagues, friends and people we meet—it's also an answer that says it all and there was no reason to follow-up on that... I wished him luck as he walked away.
As we prepared for boarding I stood between two families – behind me were two Christian brothers, probably in their mid-thirties and their 20 something year old wives.  One of the women was carrying her few months old baby. They seemed to be very happy, one of them asked me if I worked with the International Organization for Migration. I said "no, I am a journalist". And we chatted a bit; they were heading to Los Angeles and were looking forward to starting a new life there.
In front of me, there was little Abdullah, he was about four or five and kept running around as his mother was carrying her other child, a newborn and couldn't chase Abdullah so all she would do is keep calling him "Aboodi, Aboodi, Abdallah!! Come here" -his dad was overwhelmed carrying the baby bag and a couple of carry-ons.
Abdullah's parents looked like they are in their late 30's.  As they got closer to the gate, the two looked at each other and exchanged one of the best smiles I have ever seen – excitement, happiness and most definitely relief.
Like little Abdullah, there was Rita, a giggly girl with long blonde piggy tails, hovering around her dad in her pink jacket and a pink Barbie backpack she dragged on the ground as they went through security screening – every member of her family was carrying stuff, so she had to carry her own bag . Rita like her father seemed really excited about the trip and kept asking him about the plane and he was all smiles answering her many questions.
The final moments of any trip to Baghdad is a crammed bus ride from the terminal to the plane – I stood near the door and looked around at the faces of people who within moments will be leaving their homeland forever, not knowing if they will ever be back.  I could not begin to imagine what that feels like.
Two elderly women, one a Christian, the other a veiled Muslim, sat in the corner next to me and started talking to each other about where they were headed.
"We are going to California, to San Diego" the Muslim woman said "Santiago" the Christian repeated.. "No, no" she interrupted "Santiago is in Chile, San Diego is different, we had never heard of it until they told us we are going there"..
I chuckled and the Muslim woman looked at me and laughed – she started chatting with me.
The Christian woman had a speech impediment so I couldn't completely understand what she was saying, but soon the women started talking about threats and being forced to leave Iraq.
The Muslim woman explained that her son worked for an American organization and that is why they were threatened.
All of a sudden the Christian woman broke down crying making it more difficult to understand what she was saying other than "kaneesa... kaneesa" or "church... church". But there was no need for words to explain how she was feeling.
The October 31st siege of the Sayidat al-Najat Church in Baghdad, the worst attack on Iraq's Christian minority in the past seven years,  was a  horrific hours-long hostage ordeal that left 53 Christians dead. This attack and others that have  followed have left many in the dwindling community paralyzed by fear.
The Muslim woman, all teary eyed, put her hand on the Christian's and looked up at me  "See what they have done to our country? ... They have separated the Iraqis... The Christians are good people and now look what they are doing to them"
For these two women there are memories of better days in Iraq;  days of less freedoms, but more security.  Days that many of Iraq's older generation reminisce over as they repeatedly tell you about how all Iraqis Shiite, Sunni and Christian coexisted in harmony.
That is not the Iraq that little Rita and little Abdullah will remember and for the two toddlers in their mother's arms, Iraq will be a place they hear about, but might never see.
The scene was heartbreaking. The two women had never met, but had one thing in common:  pain over leaving their country  they loved,  but could no longer call home.
I tried to hold back my tears, but couldn't.  At that moment I was not a journalist, but a human being affected by the sorrow of those around me.  I did not speak to many of them, but the thought of having to flee my home and to leave behind all that is familiar and venture into the unknown brought tears to my eyes.
I couldn't stop thinking of what these families have gone through over the years and the hard new life that awaits them as refugees – the familiar plight of many of the more than two million Iraqis who have escaped the violence before them.
As we got out of the bus and headed to the plane, the Christian woman still wiping her tears, pulled out her cross a cross hidden beneath her clothes and kissed it as she walked up the stairs and into the plane.
Posted by: CNN Producer, Jomana Karadsheh
Filed under: Christianity •Iraq •Islam