Despite overtures from Turkey, Israeli Foreign Minister Avigdor Liberman said Sunday that his country will not apologize to Turkey over the deaths of nine Turkish activists aboard an aid flotilla headed for Gaza in May.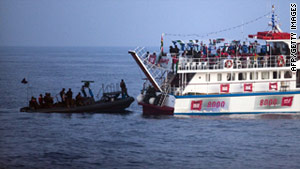 Israeli troops board a ship in a Gaza-bound aid flotilla in the Mediterranean Sea on May 31.
"The ones who need to apologize is the Turkish government for supporting terror regarding the IHH (a Turkish charity tied to the flotilla), Hamas and Hezbollah," he told a gathering of Israeli ambassadors from around the world.
"There will be no apology, and if there is one, we are expecting it from Ankara and not vice versa," he added.
A day earlier, Turkey's foreign minister continued to press for an apology from Israel over the incident, as the boat that set off the row between the two countries was scheduled to arrive in Istanbul. Read more...
Posted by: IME Producer
Filed under: Gaza •Israel •Palestinians