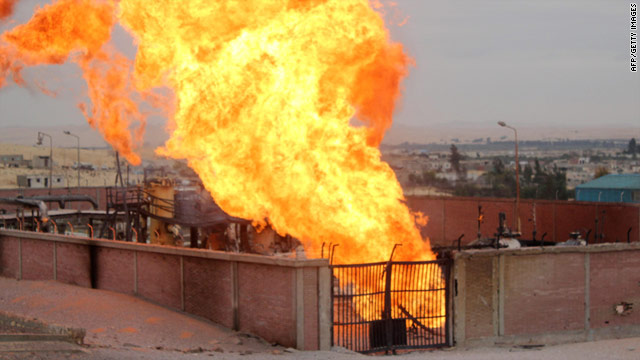 Flames rise from a gas pipeline attack in the Egyptian Sinai town of El Arish on February 5, 2011.
A pipeline that sends natural gas to Jordan was set on fire in the Egyptian Sinai town of El Arish on Saturday, and the suspected act of sabotage has forced its temporary closing, officials said.
Ghaleb Al Maabreh, head of Jordan's national electricity company, confirmed the closing. He said at least one week will be needed to fix it and the cost for the repair will be covered by Jordan.
Al Maabreh said the government will start using alternative sources that will cost it $4.2 million daily. It is able to provide itself with energy sources for the coming three weeks, he added.
Unless the pipe is repaired quickly, it could become a big problem for Jordan, a country already spending heavily in fuel subsidies, a Jordanian senior official said. Read more...
Posted by: IME Producer
Filed under: Egypt •General •Jordan