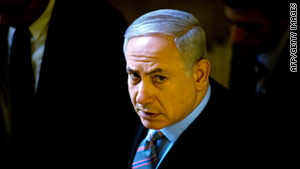 Israeli Prime Minister Benjamin Netanyahu on Sunday criticized Iran's plans to send naval ships through the Suez Canal.
The Israeli prime minister on Sunday accused Iran of trying to expand its influence in the region by planning to send naval ships through the Suez Canal to the Mediterranean.
Egypt has agreed to allow two Iranian warships to cross, in a move that puts the country's new military regime in a prickly position with its Israeli neighbor.
The post-Hosni Mubarak caretaker government gave the green light to the Iranian warships Friday. The move comes in the wake of the Egyptian president's ouster earlier this month.
"Iran is trying to take advantage of the situation," Israeli Prime Minister Benjamin Netanyahu said Sunday at a weekly Cabinet meeting.
Netanyahu said Israel views the crossing of the Iranian ships through the Suez Canal "gravely."
No Iranian warships have crossed the canal as of Sunday, said Ahmed el-Manakhly, transit director of the Suez Canal Authority.
The Iranian state news agency al Alam earlier reported that two Iranian ships had crossed through the canal and are headed to a Syrian port.
The ships are expected to be the first Iranian warships to sail through the Suez since the Islamic republic's 1979 revolution. Egypt's newly empowered military government has said it would honor all its international treaties.
The Suez Canal is a key waterway for international trade. It connects the Mediterranean Sea with the Red Sea, allowing ships to navigate between Europe and Asia without having to go around Africa.
Millions of barrels of oil move through the Suez every day en route to Europe and North America
Posted by: IME Producer
Filed under: Iran •Israel •Netanyahu