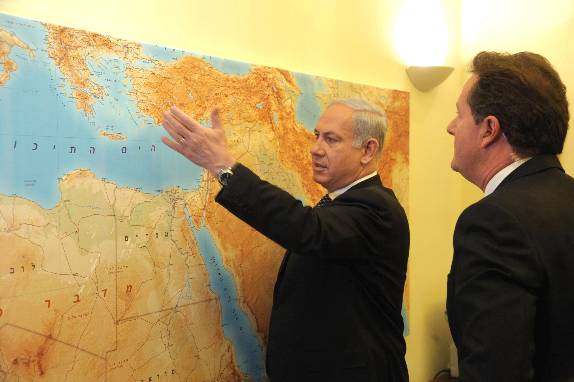 Prime Minister Benjamin Netanyahu of Israel meets with Piers Morgan(Getty)
In a wide-ranging interview with CNN's Piers Morgan Israeli Prime Minister Benjamin Netanyahu ruled out the possibility that his government would ever negotiate with a Palestinian government that included the Islamist group Hamas.
"Can you imagine a peace deal with Al Qaeda? Of course not." Netanyahu told Morgan in Jerusalem. "What am I going to negotiate with them? The method of our decapitation? The method of their exterminating us? Of course not"
The vocal opposition from Netanyahu comes amidst Palestinians efforts to end the bitter political divide between their two main political parties.
Wednesday Palestinian Authority President Mahmoud Abbas said he was ready to visit the Gaza Strip immediately in an effort to end the internal political division between his Fatah party and the Hamas faction which rules in Gaza.
That move followed an invitation from Hamas Prime Minister Ismail Haniyeh who extended the invitation to Abbas as tens of thousands of protestors both in the West Bank and Gaza took to the streets demanding political unity.
Israel has long rejected the idea of direct negotiations with Hamas which it regards as a terrorist organization but Netanyahu's comments signal what appears to be a new Israeli push to prevent Abbas from striking deal that would include Hamas in any future Palestinian government.
Friday's Haaretz newspaper reported that Israeli officials were working to convince the United States and other nations that any Hamas role in a government would attest to the Palestinian's lack of interest in peace.
The division between Fatah and Hamas began in 2006 when the Islamist party won parliamentary elections and worsened a year later when Hamas seized power in Gaza from Fatah in a violent coup. Repeated attempts at negotiating a political rapprochement have failed .
While few are holding their breath that this latest effort at reconciliation will bear fruit there is considerably more pressure being brought to bear on both factions. Taking a page from protestors in Egypt and Tunisia internet savvy Palestinians have been using social media to organize increasing numbers to demonstrate publicly for reconciliation.
Independent lawmaker Mustafa Barghouti says recent demonstrations represent a new and important youth movement in Palestinian society.
"What you see is the beginning of change, what you see is the voice of the young people and the silent majority among the Palestinians which are pressuring both Fatah and Hamas to end this terrible division, to end this internal competition about an authority which does not exist because it is all under occupation," Barghouti said. "You see the voice of the Palestinian majority asking for democracy back and asking for unity, which is the only way to end occupation and the suffering of the people."
Posted by: Kevin Flower
Filed under: CNN Coverage •Fatah •Gaza •Hamas •Israel •Netanyahu •Palestinians •West Bank