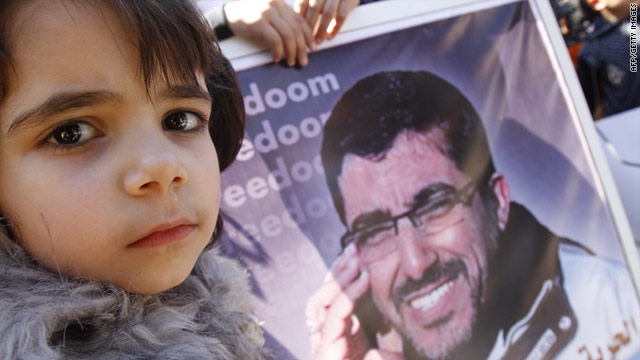 Palestinian relatives of Dirar Abu Sisi attend a Gaza demonstration calling for his release from an Israeli jail on Tuesday.
Jerusalem (CNN) - In the latest chapter of an unfolding story that reads like a spy thriller, a Palestinian engineer who was allegedly abducted by Israeli intelligence services in the Ukraine over a month ago will be kept in custody for at least another week after an Israeli court ruling.
After being held for over 30 days in an Israeli jail under mysterious circumstances, Dirar Abu Sisi's incarceration will last at least one more week after a judge in a Petach Tikvah court Thursday granted an Israeli government request to keep Abu Sisi behind bars in order for the state to produce evidence against him.
"This request means that Israel does not have, even after 34 days of interrogation, sufficient evidence to indict Dirar Abu Sisi with any offense under Israeli law and under these circumstances we argue that he should be released, " Abu Sisi's attorney Smadar Ben-Natan told CNN following his court appearance.
Read the rest here
Posted by: Dan Morgan, Kareem Khadder
Filed under: Gaza •Hamas •Israel •Palestinians