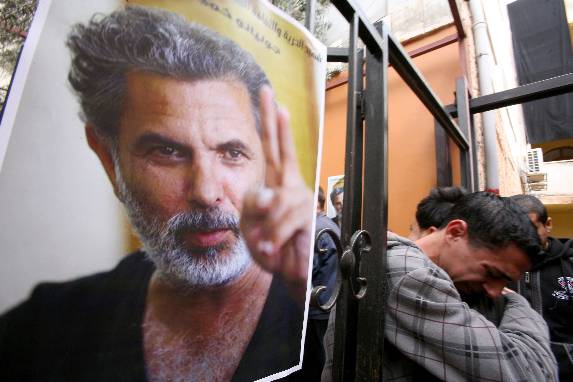 Palestinian youths mourn the death of Arab-Jewish actor and director Juliano Mer-Khamis (poster) outside The Freedom Theatre in Jenin refugee camp in the West Bank
Thousands gathered in the West Bank Tuesday in memorials for noted Israeli Palestinian actor, director, and political activist Juliano Mer-Khamis.
Mer-Khamis, 53, was gunned down Monday outside the Freedom Theatre in Jenin refugee camp – an institution he helped found to introduce Palestinian children to the performing arts.
His death at the hands of an unknown masked gunman, sent shock waves through Jenin and the artistic community in both the West Bank and Israel where his work in local theatre was well-known.
Born to an Israeli-Jewish mother and a Palestinian Christian father, Mer-Khamis believed theatre and music could be used to empower Palestinian children to fight against Israel's occupation of the West Bank.
The theatre opened its doors in 1988 in the middle of the first Palestinian intifada and amidst several closures, attacks, and robberies managed to stay in operation teaching thousands of Palestinians children.
In a 2008 video Mer-Khamis described the Freedom Theatre project as "a venue to join the Palestinian people for their struggle for their liberation"
"We believe that the third intifada, the coming intifada should be a cultural intifada with theatre, music, cameras and magazines." he said.
"We hope this theatre will generate a political artist movement of artists who will raise their voice against women discrimination, against children discrimination, against violence, unnecessary violence against civilians, to bring back a just cause – we are not terrorists. To me freedom is The Freedom Theatre"
Palestinian police say they have arrested several men in connection with the shooting but have not named a suspect.
The Palestinian Authority Prime Minister Salam Fayyad was quick to condemn Mer-Khamis's death saying "This despicable crime will not be tolerated under any circumstances; it constitutes a severe violation of our principles and values and goes against our peoples' morals and beliefs in co-existence."
Mer-Khamis is survived by his wife and two children from a previous marriage.
In a testimonial to their former mentor a group of current Freedom Theatre students wrote "your children are going to stay, following your path on the way to the freedom battle, and we will go on with your revolution's promise, the Jasmine revolution."
Posted by: Kareem Khadder
Filed under: Culture •Hamas •Israel •Palestinians