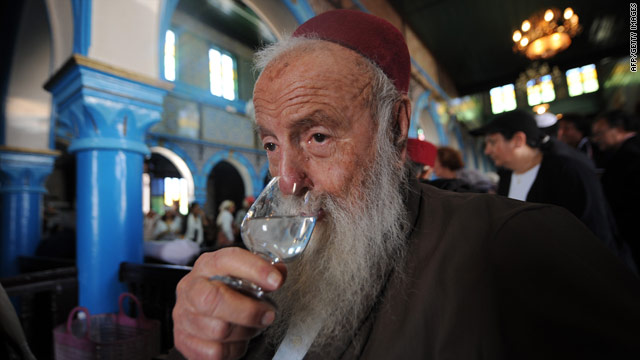 A rabbi drinks a glass of fig alcohol at the 2010 pilgrimage to Derba, a Tunisian island
By Joe Sterling, CNN
(CNN) – The political tension bubbling across Tunisia, Libya and the rest of North Africa has forced the cancellation of an annual Jewish pilgrimage to a historic synagogue on the Tunisian island of Djerba.
Roger Bismuth, a leader in the Tunisian Jewish community, said the community is concerned about the possibility of disruptions amid the ferment in Tunisia and the warfare in nearby Libya.
"We are scared people will take the opportunity to do something," said Bismuth, leader of a community that endured a deadly 2002 al Qaeda truck bombing in Djerba. "It's irresponsible to do it."
The annual pilgrimage is always held around the Jewish holiday of Lag B'Omer, which comes this weekend, and it is centered on La Ghriba, a revered and iconic synagogue in the heart of the island. It was targeted in the 2002 attack, which killed 21 people, including German tourists.
According to legend, Jews came to Djerba after the destruction of the first temple in Jerusalem, destroyed in 586 BCE, and the synagogue has foundation stones from that edifice.
read the rest of the story here on CNN's Belief Blog
Posted by: Joe Sterling
Filed under: General •Judaism •Religion •Tunisia