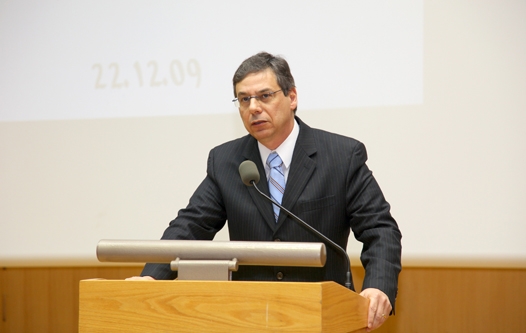 Deputy Foreign Minister Danny Ayalon speaks before a Knesset committee.
He is a vocal proponent of Israel's foreign policy and his no holds barred approach to diplomacy has bought him many critics, but love him or hate him, it is hard to ignore Israel's Deputy Foreign Minister Danny Ayalon.
With an extremely high-profile on the web,  Ayalon, a member of Avigdor Liberman's Yisrael Beiteinu nationalist political party and a former Israeli ambassador to United States , has been recognized by Foreign Policy Magazine as one of the leading politicians around the globe utilizing social media.
Whether spending his time tweeting in 3 different languages, openly voicing personal opinions on his Facebook  wall, making new friends on Google+ or posting videos and publications on his slick website , Ayalon has earned himself thousands of followers around the globe.
Ayalon's most recent and controversial social media venture is a new YouTube video  titled "Israel Palestinian Conflict: The Truth about the West Bank" in which he attempts to poke holes in what he says are some common misconceptions regarding the Israeli occupation of Palestinian lands and vigorously advocates Jewish presence in them. The video has drawn some quarter of a million views and not surprisingly has attracted a mix of comments of condemnation and praise.
Ayalon's video quickly moved beyond the web, however, and into the rough and tumble politics of Middle East diplomacy. Shortly after the video was released top Palestinian negotiator Saeb Erekat released a blistering statement calling the post 'offensive' commenting "With this video, the Israeli government has left no doubt on its pro-conflict agenda. Now, the international community knows the Israeli government is committed to denying the Palestinian people their inalienable right to self-determination and on continuing their [sic] illegal and colonial enterprise in the occupied Palestinian territory."
"The fact that Israeli settlements in the occupied territories, including East Jerusalem, are illegal is not in dispute, except in minds of the advocates of occupations", Erakat said. "We call on the international community to demand an official explanation from the Government of Israel regarding this video, which openly expresses hostility towards the Palestinian people."
Ayalon, who has been a vocal critic of the Palestinian Authority's bid to win UN recognition in September, challenged Erakat to "an open debate on all the issues ahead of September."
Erakat rejected the offer telling the Maan New Agency that "Ending the Israeli occupation is not a point that needs to discussed."
Ayalon was quick to counter. "I am more than a little surprised that Erakat rejected my offer of an open and public debate, especially considering he was concerned enough about our video to release a two page official press release".
"Erakat is used to telling the world that Israel's policies are illegal and against international law and I offered him the chance to back up his own statements and he is proving unable or unwilling to do so." Ayalon went on in a statement.
"Like its diplomatic policies, it appears that the Palestinian Authority is only able to debate unilaterally."
Ayalon is also known for his frequent debates on the micro-blogging site Twitter. Recently he sparred with the Atlantic Monthly columnist Jeffrey Goldberg who opined that the Israel's "foreign ministry is now part of the settlement movement". What followed was a Twitter version of policy street brawl as documented here by Tablet magazine.
Ayalon is known for his sometimes brash style and made headlines last year in a high-profile meeting with the then Turkish ambassador Ahmet Oguz Celikkol. In a staged photo-op between the two Ayalon was seated in a higher chair and with cameras rolling, turned to reporters and said, "The important thing is that they see he's sitting lower and we're up high and that there's only one flag and you see we're not smiling"
Celikkol later said his treatment was "unacceptable, shocking and primitive," and did not comply with standards for diplomacy.
The incident served as a milestone in Israel's deteriorating relations with Turkey, once a close military and economic ally.
Posted by: Guy Azriel
Filed under: Israel •Palestinians •Social Media