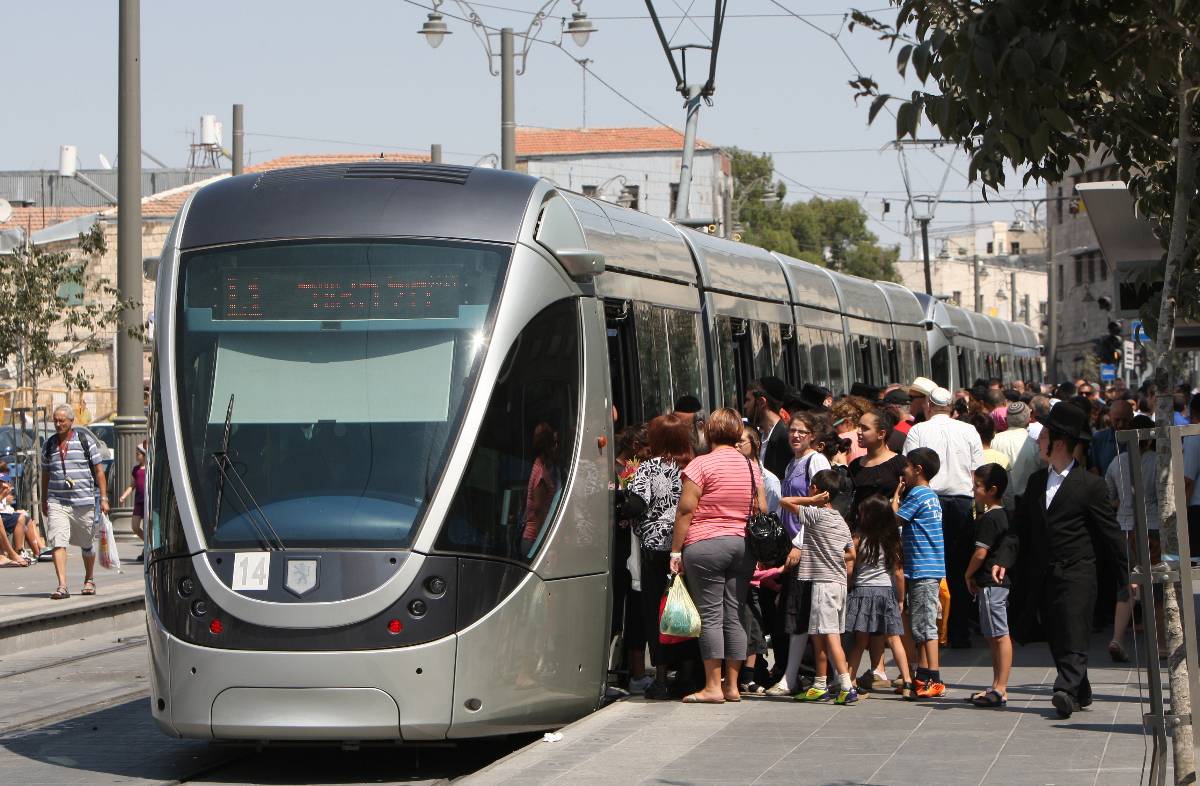 Israelis gather to board a train to enjoy Jerusalem's light rail system's first day of operation (Getty)
After years of delays, hundreds of millions of dollars in cost overruns and stiff political opposition, Jerusalem's ultra-modern light rail project was finally launched this past Friday in what transportation officials are calling "a dream come true".
Originally planned to embark on its debut journey in 2006, Jerusalem's grandiose light rail trains finally opened their doors for thousands of passengers anxious to experience the electric wonder.
"This is a new era for the public system", says Nadav Meroz of the Jerusalem Transportation Masterplan, a body established by city officials in an effort to put an end to major traffic backups across the dense city.
But with costs that escalated like a runaway train to an astounding price tag of $1.2 billion dollars– almost double the original estimate– not all are certain that this was money well spent. "The train has transformed from a mean's to an end to a goal of its own (one) that justifies all means and crushes everything on its way in order to produce fat profits to its planners", residents of one of the impacted neighbourhoods complained in a letter sent to local newspapers.
But transportation officials say otherwise. "This system is going to give service to the people of Jerusalem for decades now. So I believe it is worth it, of course", Meroz tells CNN.
Stretching from Mount Herzl in the south of Jerusalem all the way into the city's northern neighbourhoods, through the city center, and the old city, the rail also passes through the Palestinian east Jerusalem neighbourhoods of Shuafat and Beit Hanina. Construction provoked repeated allegations by Palestinians that the train was Israel's way of taking over their land. Israel captured east Jerusalem during the 1967 Six Day War and the Palestinians see it as their future capital.
"The aim of the project is to connect the settlements with west Jerusalem" says Ahmed al-Rueidi, head of the unit for Jerusalem affairs at the Palestinian Authority's  presidential office. "They are using our land, Palestinian land. The train is illegal and so are the settlements".
Meroz dismisses the claims. "Go there yourself and ask the people who live there, ask the people who have shops over there. People want to live by the rail, want to open shops there. Everything went up. Without any difference whether you are Jewish, Arabic or Christian, it doesn't matter, it is a project for everyone."
Having completely changed the face of Jerusalem's city center and its formerly buzzing and lively Jaffa Street during construction, planners were forced to defend accusations of  irreparable economic damage to merchants who said they were forced to close shops and restaurants. Some said construction work along the track scared off customers, finding merchants and city residents alike on the wrong side of the tracks.
Chairman of the city traders committee Eli Levi says hundreds of small businesses have closed down and 1,500 workers lost their jobs due to long delays in infrastructure and interruption to street life. "The works were planned without any consideration in businesses and residents that used to shop in the city center." Levi's committee estimates direct damages to merchants at nearly $500 million.
But rail executives believe now that the proverbial train has left the station that even critics will come to appreciate the project despite the years of acrimony.
"We brought the street back to the people of Jerusalem. I believe that this will change dramatically the way people think about the city center," says Nadav Meroz.
Acknowledging the decline of some property prices along the track during construction, Meroz confidently predicts the opening of the line will drive shop owners' revenues up "dramatically."
For the first few weeks of operation train rides are being offered free of charge. The rail is ultimately expected to cater to over 100,000 passengers a day.
Posted by: Guy Azriel
Filed under: Israel •Jerusalem •Palestinians