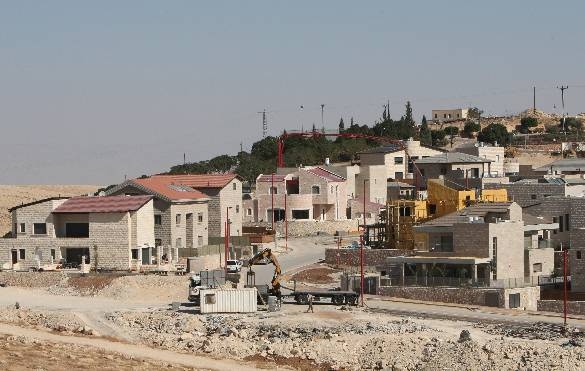 New houses are seen in West Bank Israeli settlement of Qedar, on the outskirts of Jerusalem (Getty)
As Israelis and Palestinians attempted to give peace a chance this past week with a second Jordanian sponsored meeting of the two sides, a new report issued by an Israeli settlement watch dog organization is likely to further dim the unlikely prospect of any breakthrough between the parties.
Tuesday, the anti-settlement activist group Peace Now released a new report citing a 20% increase in the construction of Israeli settlements in the West Bank in 2011. The report found that the number of plans for new Jewish homes in predominantly Arab East Jerusalem was at its highest number in a decade with over 3,600 housing units approved and preliminary plans made for another 2660.
Speaking to reporters Tuesday, Peace Now director, Yariv Oppenheimer, said, 2011 "will be remembered as the 'year of the settlers' regarding construction in the West Bank" and claimed the government of Israeli Prime Minister Benjamin Netanyahu was jeopardizing the possibility of a two-state solution.
The Israeli government described Peace Now's figures as exaggerated and spokesman Mark Regev offered this pointed retort:
"The current Israeli government has been attacked by the leadership of the settlement movement for being the "worst government in Israel's history" when it comes to settlement construction. And it is indeed true that we have shown more restraint on the issue of settlement than any previous Israeli government. We initiated the unprecedented ten-month settlement moratorium and even since the conclusion of that moratorium we continue to exercise great restraint."
The highly contentious issue of Israeli construction in the West Bank and East Jerusalem - land the Palestinians seek for a future state - is one of the main sticking points preventing the full-scale resumption of negotiations between Israelis and Palestinians. Palestinian Authority President Mahmoud Abbas has declared repeatedly a peace deal with Israel will not be possible without a complete freeze on settlement building. The Israeli government maintains that Palestinians are merely using the settlement issue as an excuse not to engage in serious bilateral negotiations and that Palestinians seek instead to pursue unilateral action through international bodies like the United Nations.
Excuse or not, it would appear that few are holding out hope that the most current round of meetings between the two sides will lead anywhere.
Speaking to Middle East envoy Tony Blair Tuesday, veteran Palestinian politician and PLO executive committee member Hanan Ashrawi said, "Negotiations are just a means to an end. With the great disproportionateness in power between Palestine and Israel, Palestinians are still asked to negotiate with the occupying power to get permission from Israel to achieve freedom. Israeli policies are based on the theft of Palestinian land, resources and money. Unless Israel refrains from all illegal settlement activities and commits to 1967 borders, the Palestinian people will not return to negotiations."
Direct talks stalled in 2010 because of the settlement issue - and It would appear, for now at least, that 2012 is not likely to be remembered as the year of a negotiated peace between Israelis and Palestinians.
Posted by: Kevin Flower
Filed under: General •Israel •Palestinians •Peace Talks •West Bank