It was slightly before midnight last Friday when Mahmoud Abu Rahma was walking home from his office at the Al Mezan Center for Human Rights in Gaza City. But before he made it to his house he was set upon by three masked assailants. The men stabbed Abu Rahma multiple times in the leg and shoulder while screaming that he was an "atheist" and a "collaborator".
Even as the attack began Abu Rahma says he knew what it was about.
Three weeks ago, on New Year's eve, he published a scathing article on a Palestinian news website titled "The Gap Between Resistance and Governance." In it he took Palestinian political factions to task for their lack of tolerance, rampant corruption, and liberal use of torture and arrests to harass those who criticize them.
"Power and authority with a poor moral foundation are doomed to fail. They will destroy themselves and lead their people to corruption and injustice," Abu Rahma wrote in the essay.
"The people of any nation have a responsibility to criticize those who lead them. We must look in the mirror before we can see ourselves clearly. "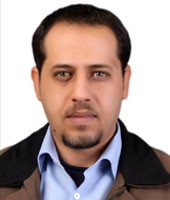 Abu Rahma also criticized armed militant groups for endangering the lives of civilians.
The unsparing critique on the powers-that-be in the West Bank and Gaza brought an immediate reaction.
Abu Rahma says he was quickly subjected to a series of threatening email and phone calls and three days after publication a group of masked men entered his building and beat him up.
During the course of the second attack Abu Rahma was able to escape his assailants and get home where family and friends got him medical attention.
The Hamas-controlled Information Ministry in Gaza said in a statement the government was investigating the circumstances of the attack on Abu Rahma and called it a violation of human rights. It also said Gaza authorities respected the right of political expression as long as it conformed with "national responsibility."
But international rights organizations like Human Rights Watch say the governments in both Gaza and the West Bank are complicit in the abuse and harassment of Palestinian critics using both detention and torture as a means of repression.
"Hamas's failure to protect Abu Rahma, who has been a leading voice for human rights in Gaza, sends a chilling message to other human rights defenders," says Human Rights Watch's Middle East director Sarah Leah Whitson.
"Hamas needs to investigate the attacks against him promptly and thoroughly and to appropriately punish those found responsible."
Speaking on the phone from Gaza, Abu Rahma says he does not know who is behind the "cowardly attack" but says the attempt to silence those looking to improve Palestinian society will not work.
He remains unbowed and said the tremendous outpouring of support following his article and subsequent attacks has only stiffened his resolve.
"I am confident that the Palestinian people will stand together for human rights and self freedom of expression"
Posted by: Kevin Flower
Filed under: Fatah •Gaza •Hamas •Human Rights •Palestinians •West Bank