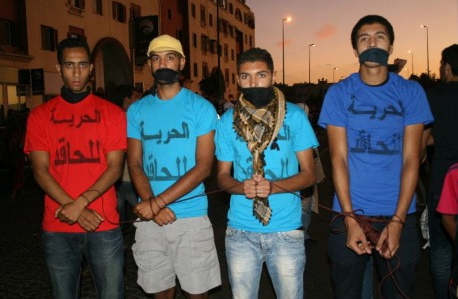 Supporters of the jailed rapper wear symbolic gags and T-Shirts saying 'Freedom for Al Haqed.' PHOTO: L7a9ed.com
A Casablanca court on Friday sentenced a Moroccan hip hop artist to one year in prison for hurting the image of the police.
Mouad Belghouat, better known as "Al Haqed" (could be translated as "The Sullen One," "The Engraged One," or "The Contemptuous One") has been in custody since late March when he was arrested for his song "Kilab Al Dawla" or "Dogs of the State" where he criticizes the police for corruption and an online music video set to his lyrics that shows a policeman with a donkey's head (he says he didn't make the video.)
"You are paid to protect the citizens, not to steal their money," say the lyrics. "Did your commander order you to take money from the poor?" The song asks the police to arrest the wealthy businessmen who he says have divided the country up for themselves.
The 24-year-old Al Haqed (often spelled L7a9ed in the alphanumeric interpretation of the Arabic letters)  comes from a sprawling slum on the outskirts of Casabalanca and has become one of the key voices of the youth involved in the pro-reform February 20 movement.
The conviction has drawn an outcry from Al Haqed's supporters on his website and on social media as well as criticism from Human Rights Watch among others.
Posted by: Schams Elwazer
Filed under: Human Rights •Morocco