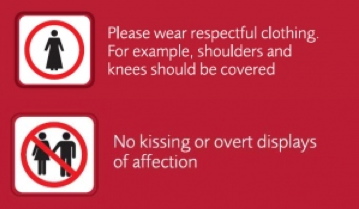 Most malls in the UAE have a dress code displayed at entrances. Some Emiratis now want foreigners to respect this dress code. PHOTO:Dubaimall.com
It is not unusual to see (usually female) tourists and expats in Dubai's malls and restaurants dressed in fashions that could be called short, tight, strapless or generally "revealing."
Now some Emiratis are saying Respect Our Culture. An online campaign launched by two Emirati women shocked at the liberal dress code of many foreigners has gained momentum. The hashtag #UAEDressCode is trending on Twitter, local media is asking the question "how short is too short?" and even the British ambassador has weighed in, calling on tourists to respect local culture.
Although the overwhelming majority of those living in this Gulf nation are expatriate, Emiratis themselves are generally conservative and abide by Islamic customs and traditions. Tourism sites welcoming visitors to the country describe it as "conservative but tolerant when it comes to dress code."
Perhaps tolerance has its limits!
Posted by: Schams Elwazer
Filed under: Social Media •UAE