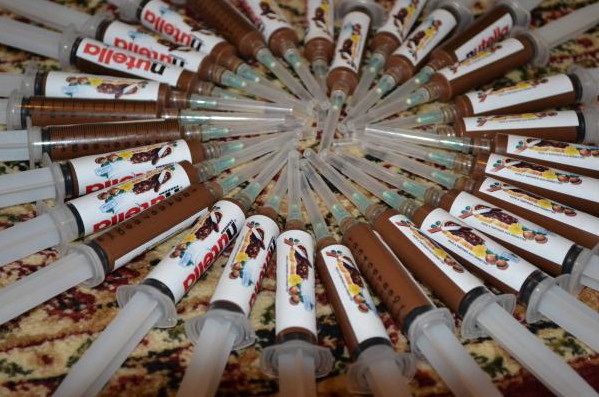 Chocoholics beware! There's a new take on the idea of "getting a chocolate fix."
Emirati newspapers Tuesday are flashing alarming headlines like "don't buy chocolate spread in syringes," "chocolate needles alarm bells,"  and "illegal chocolate syringes spark sharp response."
The Dubai Municipality has issued a stern health warning against buying or consuming (or presumably injecting!) chocolate-filled syringes after the photos above were circulated among UAE residents via blackberry, smartphones and social networking sites.
The photos show rows of syringes filled with what looks like chocolate, carrying the familiar label of the hazelnut chocolate spread Nutella. Regional distributors of the Nutella brand have issued fervent denials to the press that their product is in any way connected to these syringes and that there is no way they would be marketed or sold to consumers.
In a statement released by the municipality yesterday, the head of the food control department at Dubai Municipality said the civic body was working with the Ministry of Health and Ministry of Environment to take necessary action.
Some newspapers are reporting similar images dating back a year; but it might have been this online ad in the classified section of a local online shopping site that sparked this recent frenzy.
Posted June 15, it tells buyers to hurry up and get their choco-shots! Only 10 Dirhams! (about $2.70)
We called the number on the ad and got through to 17-year-old Abu Dhabi resident Salem Al Mihri. He told us that it was indeed him who was selling the candy contraband online.
"But what about the Dubai Municipality health warning?" I asked.
"What health warning?" Al Mihri asked. He hadn't read today's papers.
He claims he came up with the idea a few months ago while hanging out with friends – he considered it an entrepreneurial inspiration. Al Mihri says he bought the syringes from the pharmacy, filled them with Nutella spread and added and label and voila!
He says he sold all 30 of his creations to cousins – not the general public . Since our conversation, the photo on the ad has been updated to say "Sold Out."
Oh, and he was very insistent that the syringes were totally "sterile" and did NOT have hypodermic needles attached.
"It's a fun way to eat them, squeeze them out of the syringe, of course I didn't mean it as an injection!"
Al Mihri assured us this was an one-off idea done for fun. So the Dubai Municipality and the general public can rest assured that these fake products are NOT for sale (no guarantees that there won't be another copycat with an "entrepreneurial spirit")
Al Mihri says he'd like to go to university where he hopes he'll learn to be a businessman and where we hope he'll learn about trademark infringement and food health & safety.
Meanwhile, our final thought on the matter might be best reflected in this tweet...
Posted by: Schams Elwazer
Filed under: Health •Social Media •UAE