Confirmed cases of swine flu are spreading across the Middle East as Qatar, Yemen and Jordan report their first cases.
Qatar reported its first cases of swine flu Tuesday when three people arriving in Doha on international flights were diagnosed with H1N1. Health Minister Abdullah al-Qahtani said the cases were a two-year-old New Zealand boy arriving Saturday from Austria, an a two-year-old American-Bangladeshi boy transiting Doha on Sunday from New York to Bangladesh, and a seventeen-year-old Iraqi arriving from the United States.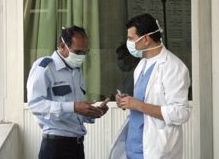 Photo: KHALIL MAZRAAWI/AFP/Getty Images
The Yemeni Health Ministry said a 16-year old Yemeni student returning from the U.S. was its first case of the virus.
Jordanian Health Minister Nayef al-Fayez said Tuesday the kingdom's first cases were two young girls who arrived from the U.S. on separate flights Sunday.
The United Arab Emirates announced its second case on Tuesday – an Emirati arriving from the U.S.
Kuwait confirmed Tuesday that three of its citizens returning on flights from the U.S. tested positive for swine flu. Last month, 18 U.S. soldiers tested positive for the virus in the emirate.
Saudi Arabia announced three new cases on Tuesday, taking its total to 17, the highest figure among the Gulf countries.
Bahrain reported 11 new cases of swine flu among students returning from their studies in the United States, taking the total to 12.
Lebanon's cases have risen to nine with health ministry reporting Tuesday two new cases, a woman coming from Canada and a man coming from Australia.
Egyptian health officials said two Sudanese women and one Egyptian-American child, all coming from abroad, were the latest victims, raising the number in Egypt to 26.
Filed under: Health