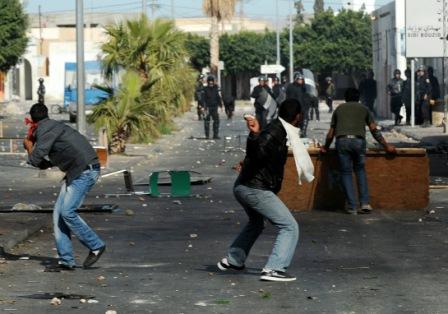 Tunisian demonstrators hurl objects towards security forces. (Getty Images)
CNN's Tim Lister takes a closer look at the important role social media sites are having in the ongoing demonstrations against the government in Tunisia:
The protests that have gripped Tunisia in recent weeks are, to say the least, unusual. Organized dissent in the streets is rarely tolerated in Arab states, and human rights groups say the Tunisian government has had a short fuse when dealing with opponents. But what's going on in Tunisia is all the more unusual because the protests are being organized and supported through online networks centered on Twitter and Facebook.
So prolific are the educated members of the northern African nation's younger generation online that it has become a top priority of the Tunisian government to block and disrupt bloggers and others perceived as opponents.
The U.S. State Department - in an unusual public criticism of a pro-West Arab government - said last week it was concerned about "recent reports that Tunisian ISP providers, at the direction of the government, hacked into the accounts of Tunisian users of American companies including Facebook, and providers of email such as Yahoo and Google, and stealing passwords. This kind of interference," it continued, "threatens the ability of civil society to realize the benefits of new technologies."
Read the rest of the story here
Posted by: Tim Lister
Filed under: Human Rights •Tunisia